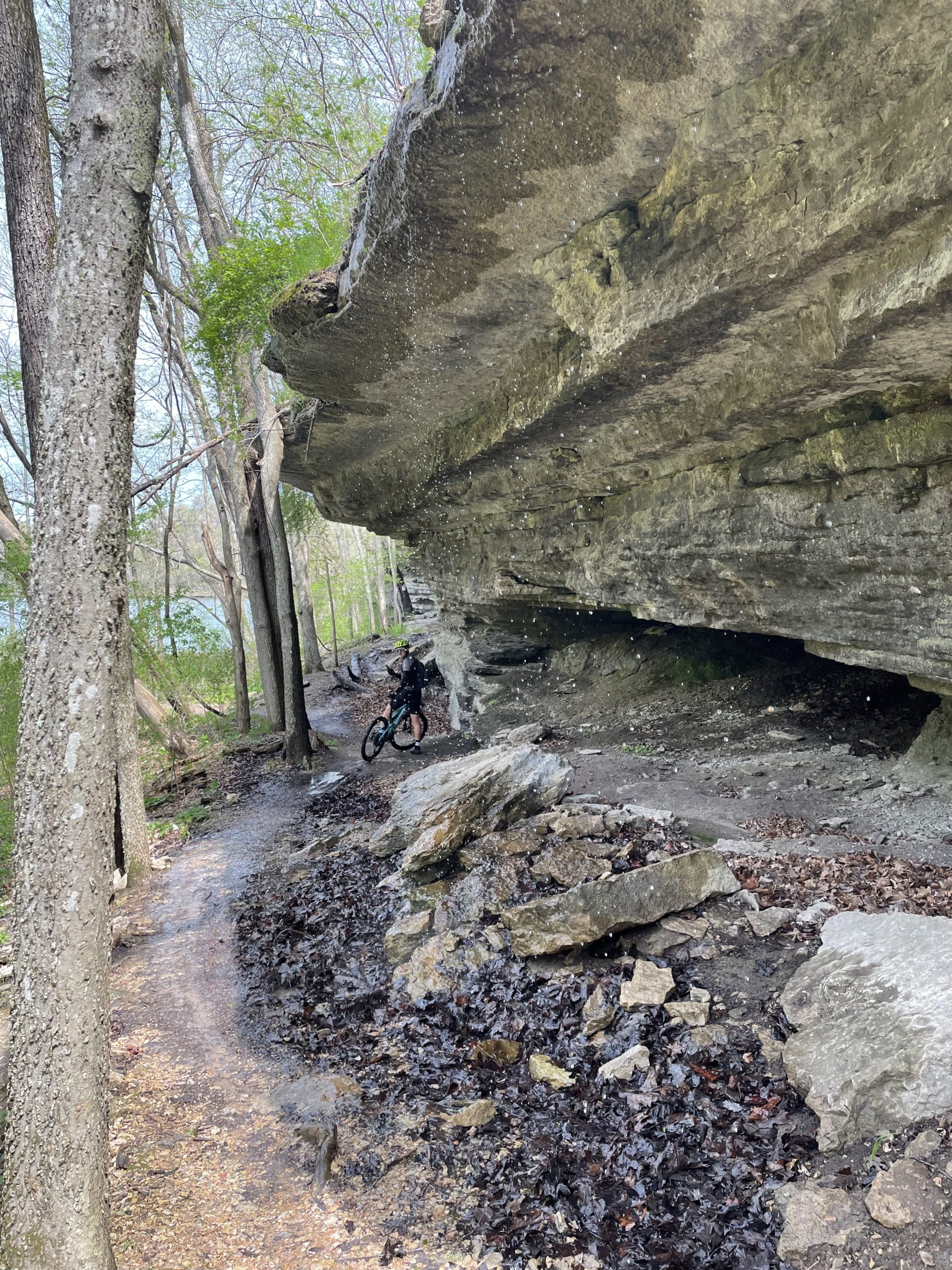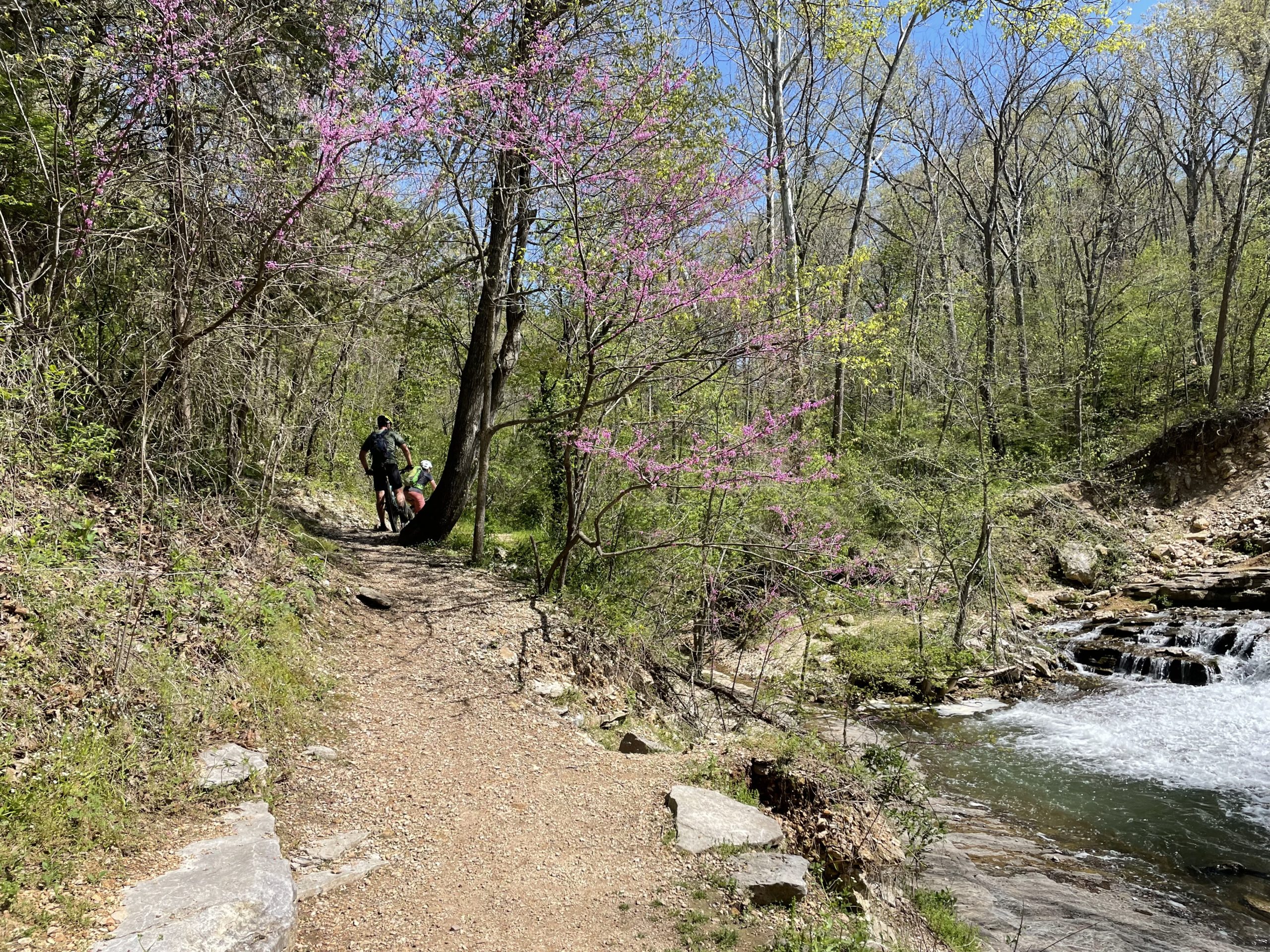 Bentonville, Arkansas April 16 – 23
Endurance Adventures is offering a women's only mountain bike trip to Bentonville, Arkansas this coming April. Participants will enjoy both the beauty and aroma of spring wild flowers as they ride through a variety of single track mountain bike trails (250 miles and growing daily) designed for the beginner to advanced mountain biker. The Ozark mountains provide beautiful scenery as you ride next to gentle streams, majestic waterfalls, lakes, and overhanging cliffs.
Trip leader Kim Rudd will provide instruction on some of the fundamental mountain bike skills at various trailhead locations throughout the Bentonville trail system. Following the skill instruction, women can choose from a variety of routes depending on their fitness and ability level. Relax in the afternoon at the newly built Trails Edge cabins or enjoy more single track riding right out your cabin door on the back 40 single track trails.
Enjoy group dinners together at a variety of local restaurants in Bentonville with your new bike companions. Art and culture experiences are part of the everyday life in Bentonville. Participants will have the opportunity to visit the world-class Crystal Bridges Museum of Art and take a tour of the Walmart Museum. Keep your camera handy as you ride through the city paved bike trails filled with over100 unique pieces of fun public art sculptures and Murals.
About Bentonville, Arkansas
Twenty years ago the town of Bentonville, Arkansas was not even on the map for a mountain bike destination. Over the last 15 years, however, thanks in large part to investments made by , the city has dubbed itself the "Mountain Biking Capital of the World." For 2022, Bentonville ranked #1 in the 'PeopleForBikes' annual city ratings.
Bentonville's journey began relatively recently, with the city's first five miles of single-track opening in 2007 on the north end of town. Today, Northwest Arkansas is home to more than 500 miles of trails, stretching from Bella Vista to Eureka Springs. Bentonville's key to success has been their ability to build trails for all types of riders. 
Travel Schedule: April 16 – 23, 2023
Arrival: All participants are responsible for ground or air transportation of their choice. Participants should arrive between 3-7 pm on Sunday, April 16 at the reserved lodging at the Trails Edge cabins. Drive in on I-49 or fly into to Northwest Arkansas Regional Airport (XNA). XNA is now served by American Airlines, Delta Airlines, United Airlines, and Allegiant Airlines, with non-stop services to 18 destinations giving you plenty of options to get to Northwest Arkansas.
Departure: The bike trip will end with an optional mountain bike ride on Sunday morning April 23rd before we check out of our lodging at 10:00 am.