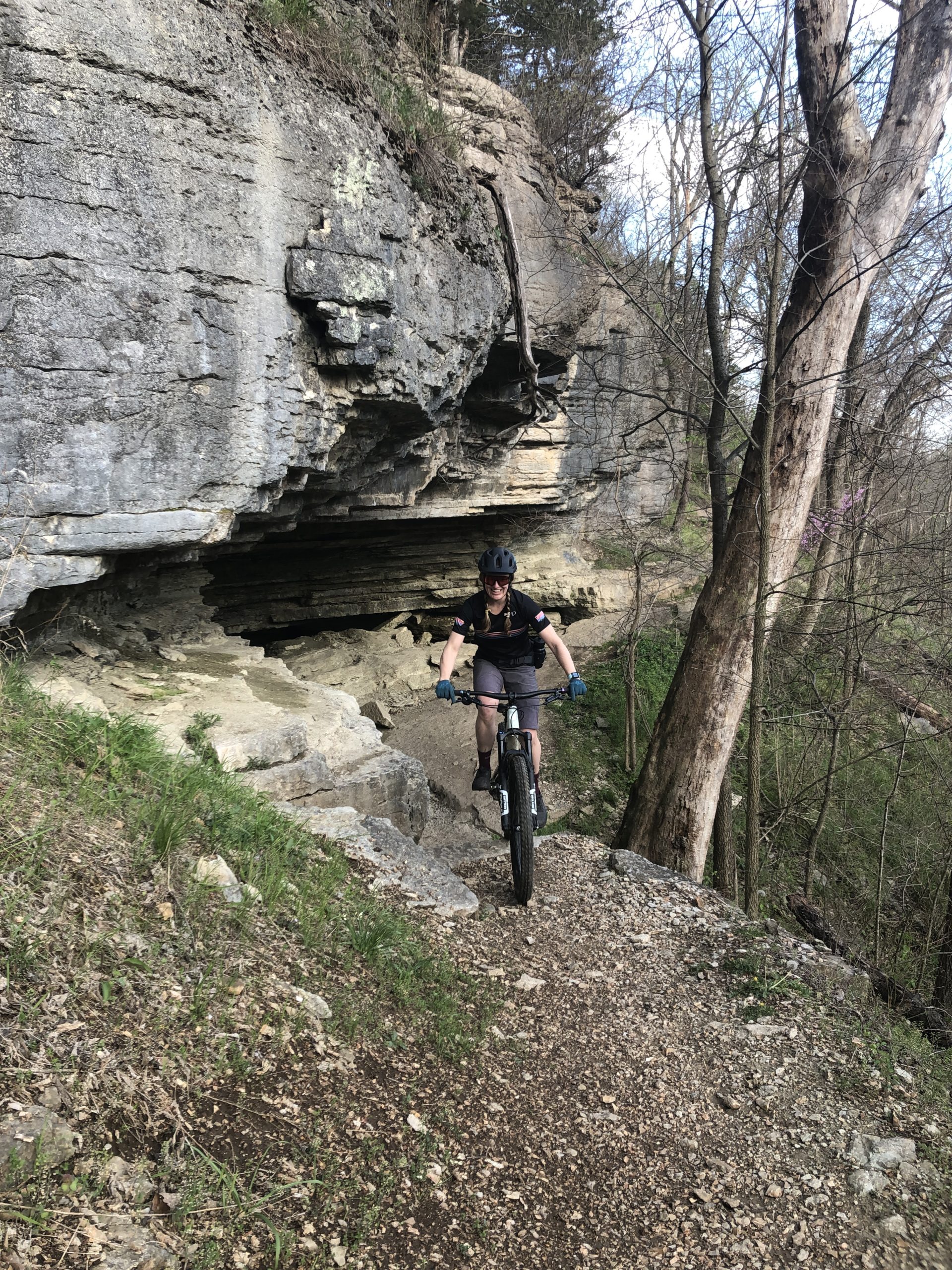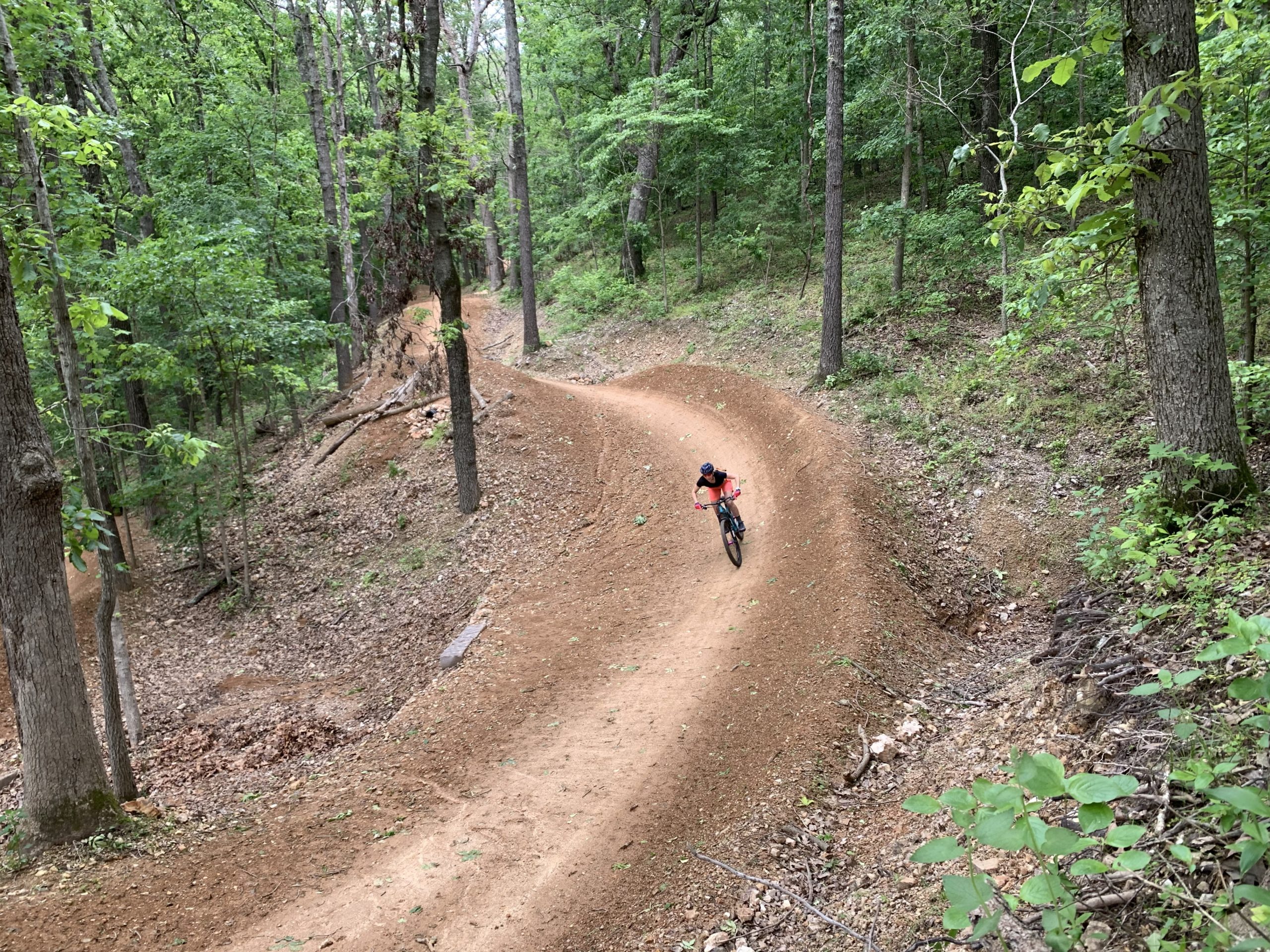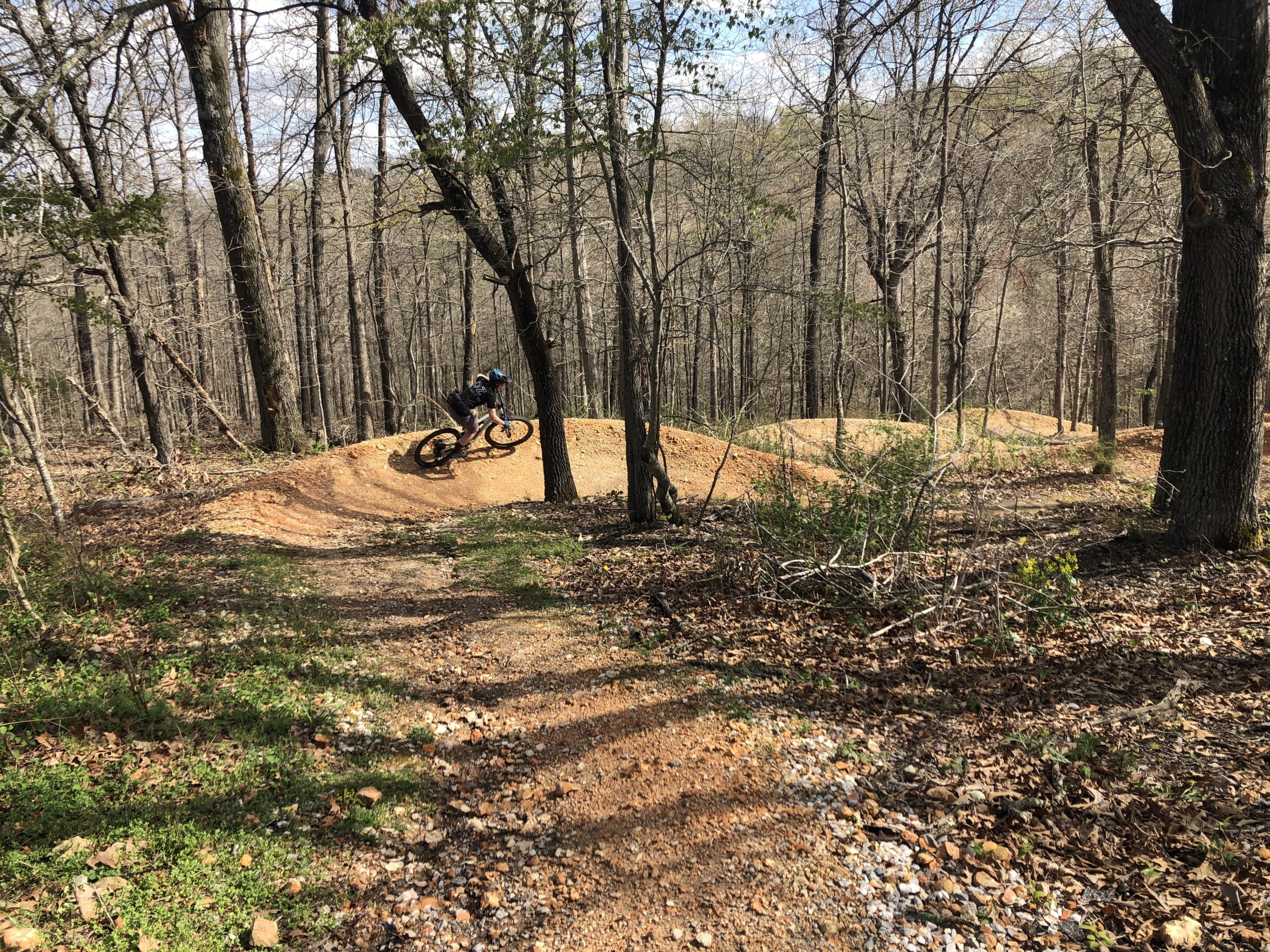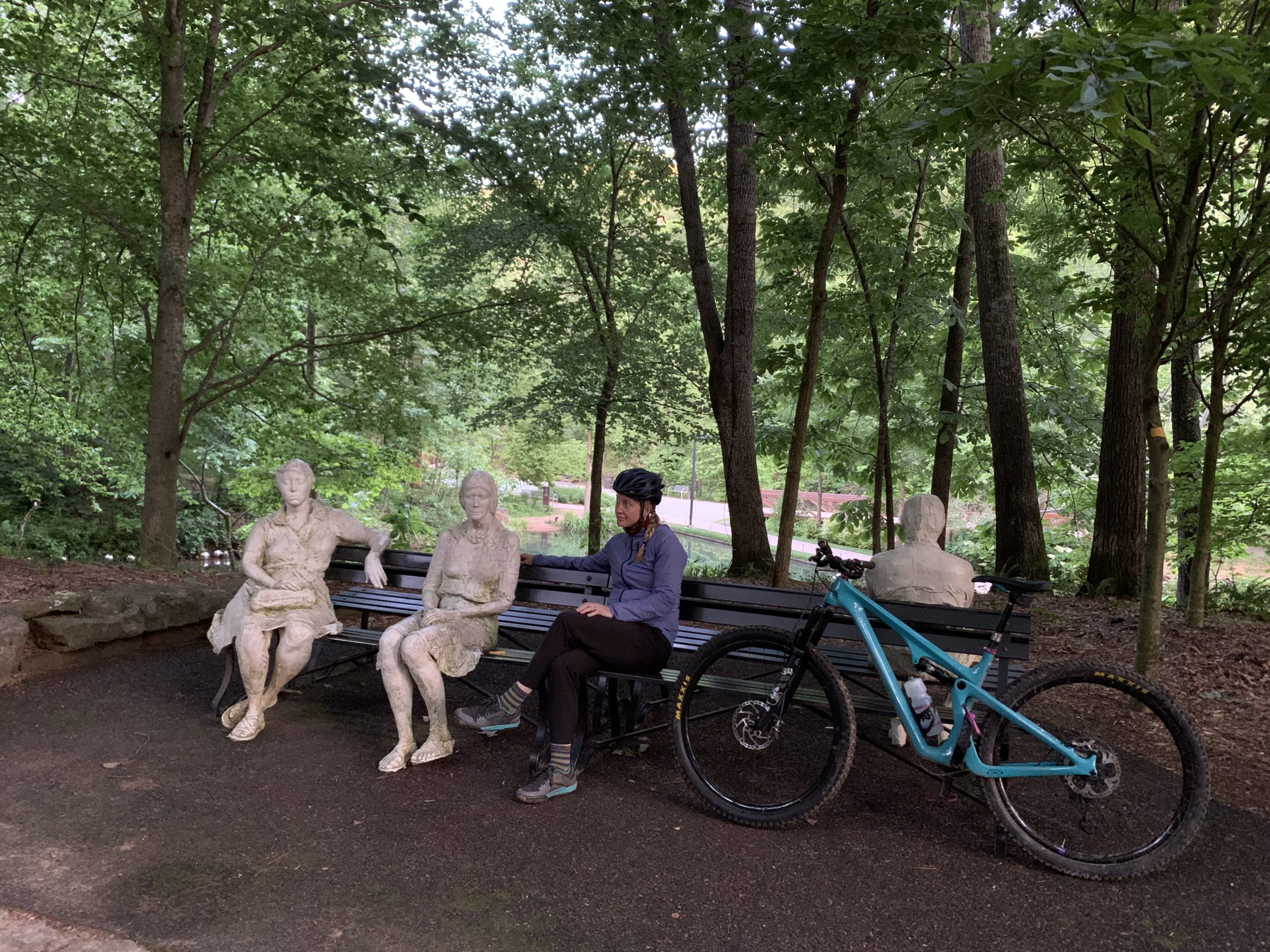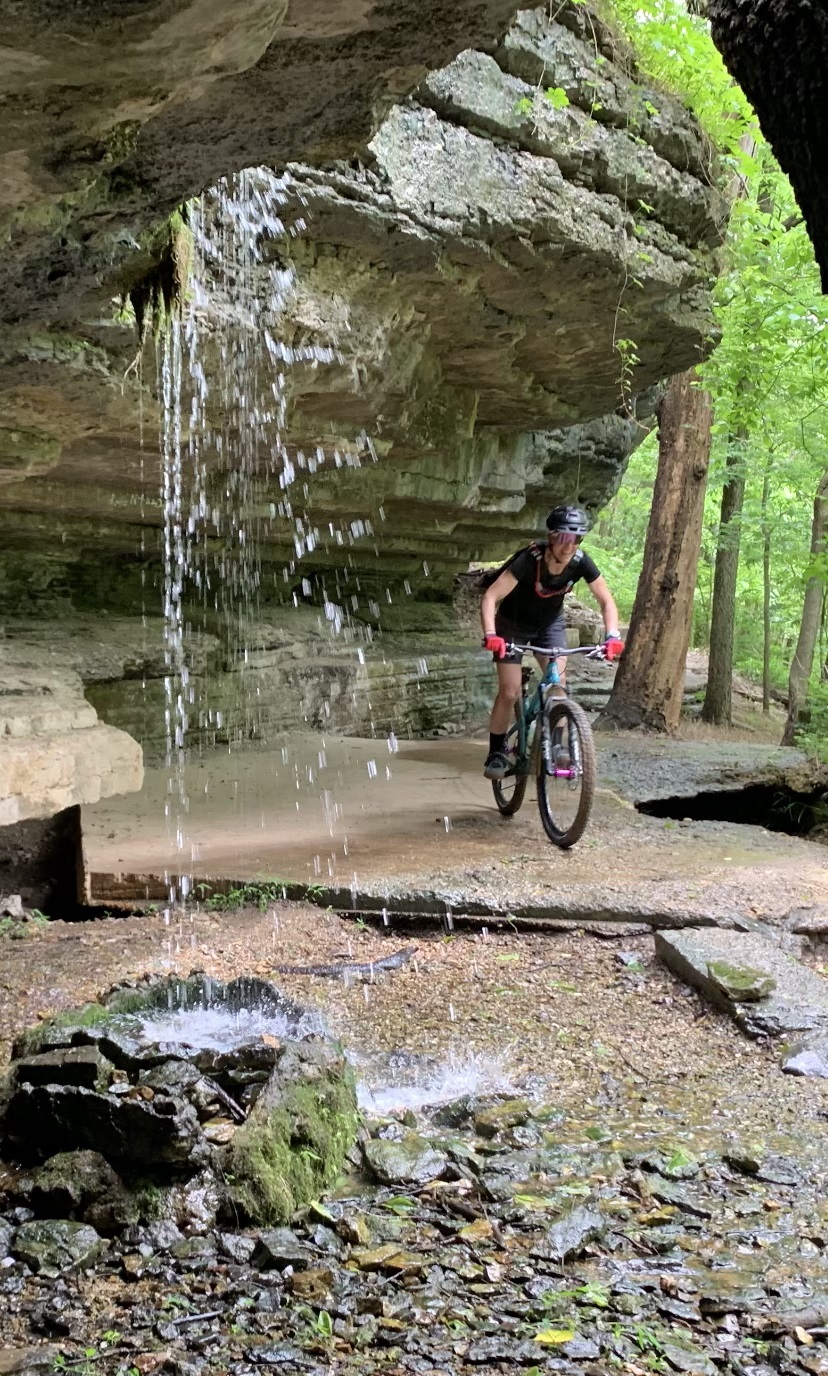 Lisa biking under waterfall
"Best of Bentonville" Women's Mountain Bike Trip, April 19 – 23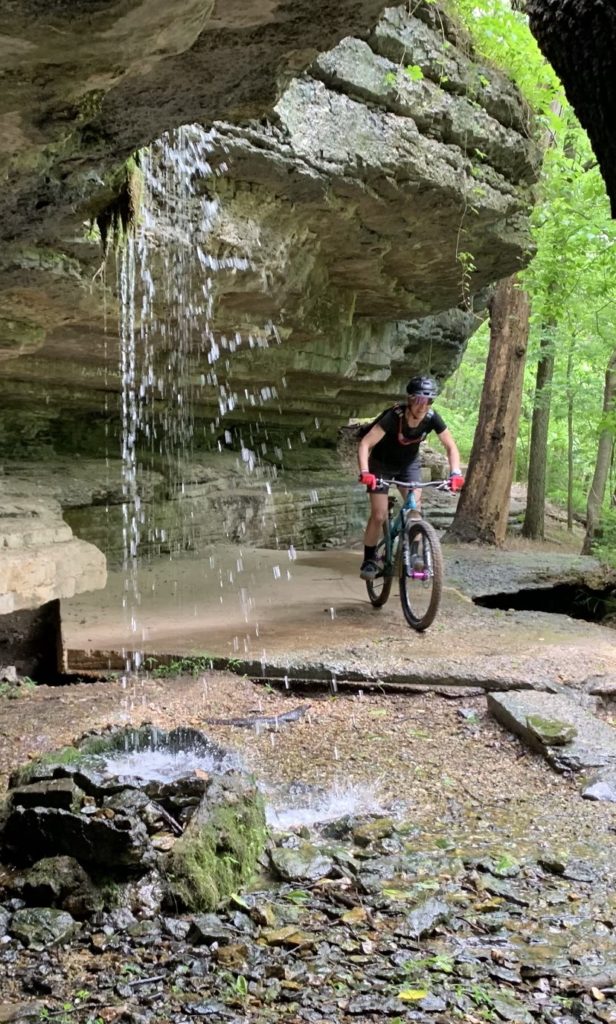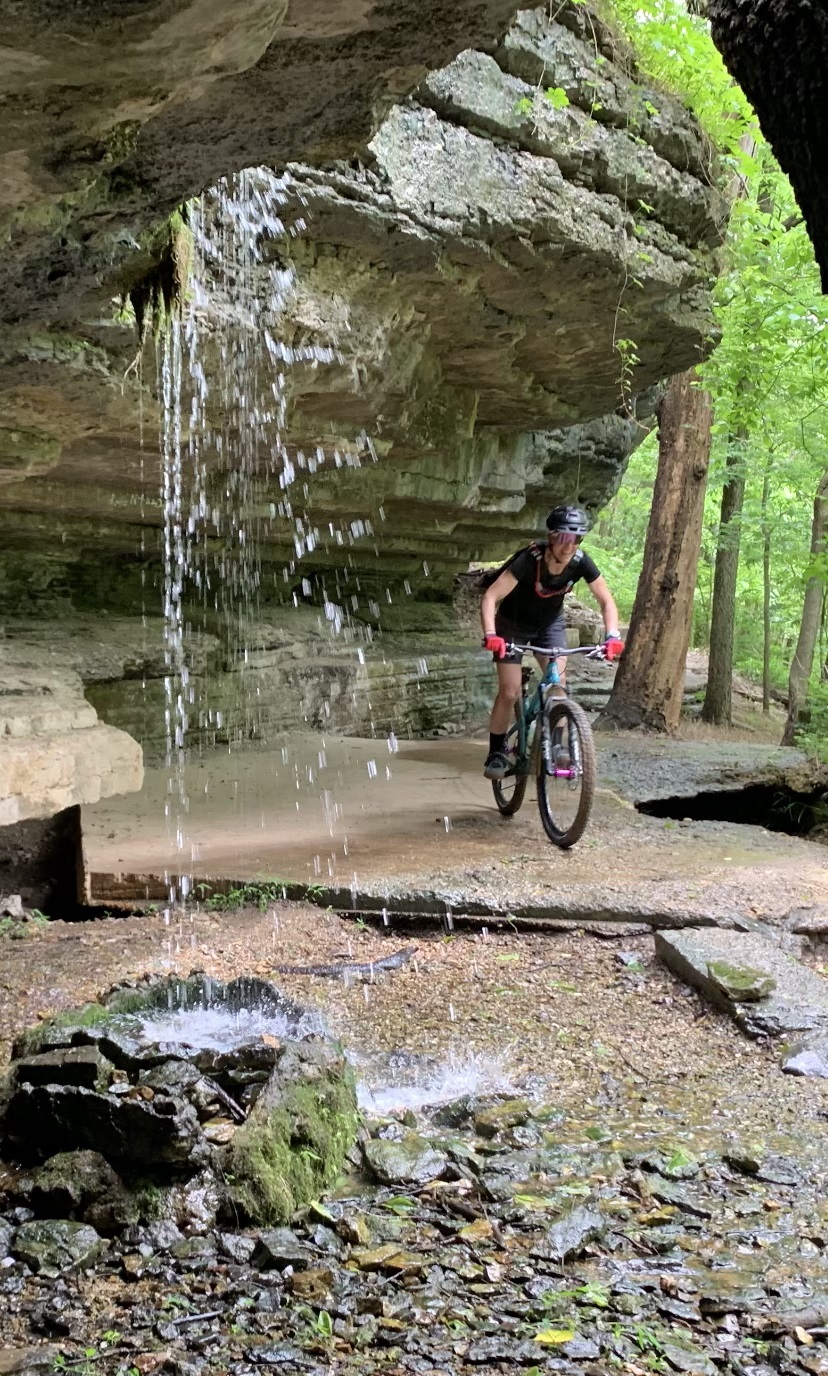 Endurance Adventures is joining forces with Stöke MTB for a women's only "Best of Bentonville" mountain bike trip! Enjoy the beauty and aroma of spring wildflowers as you ride through a variety of single-track mountain bike trails (250 miles and growing daily) designed for the beginner to advanced mountain biker. The Ozark Mountains provide beautiful scenery as you ride next to gentle streams, majestic waterfalls, lakes, and overhanging cliffs.
Trip leaders Kim Rudd, Leigh Kramarczuk, and Lisa Martens will provide instruction on some of the fundamental mountain biking skills at various trailhead locations throughout the Bentonville trail system. Following the skill instruction, choose from a variety of routes depending on your fitness and ability level. Trip leaders will guide you through some of the best "must- ride" trails in the surrounding Bella Vista and Bentonville area. Relax in the afternoon at the newly built Trails Edge cabins or enjoy more single-track riding right out your cabin door on the Back 40 single-track trails located in Bella Vista. For more information about mountain biking in Bentonville check out our blog post here.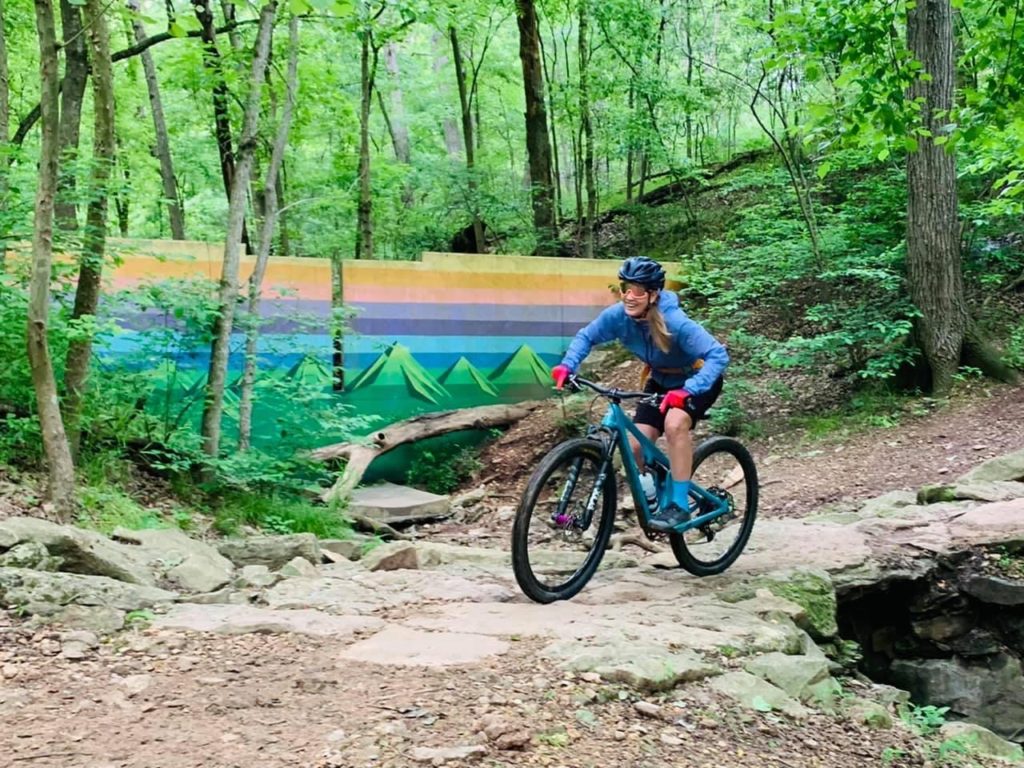 Experience Bentonville's Culture & Cuisine!
Enjoy group dinners together at a variety of local restaurants in Bentonville with your new bike companions. Participants will have the opportunity to visit the world-class Crystal Bridges Museum of Art and take a tour of the Walmart Museum. Keep your camera handy as you ride through the city's paved bike trails filled with over100 unique pieces of fun public art sculptures and murals.
MTB ABILITY/EXPERIENCE REQUIRED
We will require all participants to have previous mountain biking experience, feel confident in executing fundamental mountain biking skills, and be stoked about multi-day riding! We will have riding groups geared towards participants fitness/ability levels for the daily trail rides. The focus of the trip will be exploring the trails in Bentonville with minimal mountain biking instruction. Trip leaders will split women into smaller riding ability groups so everyone can have an enjoyable experience. For more information on mountain bike skills instruction visit: Stöke MTB
TRIP DETAILS:
Four nights lodging at the newly built Trails Edge cabins. Each cabin has the following rooming options:

Two rooms with one queen bed. Single-room occupancy will be an additional fee.
Two rooms ( one with a queen bed and one with two twin beds).
You can request to room with friends if desired or share a queen bed to reduce your trip cost fee.

Three days of guided mountain bike rides hitting the best of Bentonville with your trip leaders Kim Rudd, Lisa Martens and Leigh Kramarczuk.
Fundamental biking skill instruction (first 20-30 minutes before our daily rides).
Four dinner meals are included in your trip fee (at local restaurants in Bentonville and a reception dinner the first night at your leaders' cabin).
Appetizers/beverages before dinner meals as you relax outside in the woods by your cabin.
Daily trailside snacks and one picnic style lunch at Hobbs State Park!
Daily bike clean/lube provided by your trip leaders.
Trails Edge Cabin Accommodations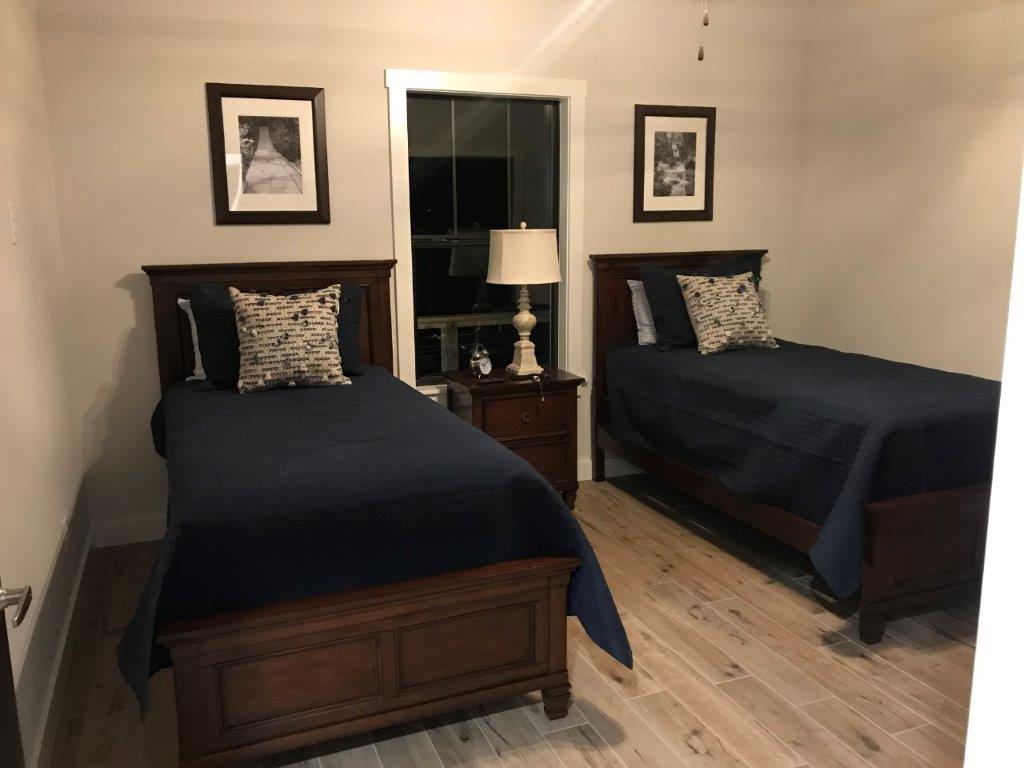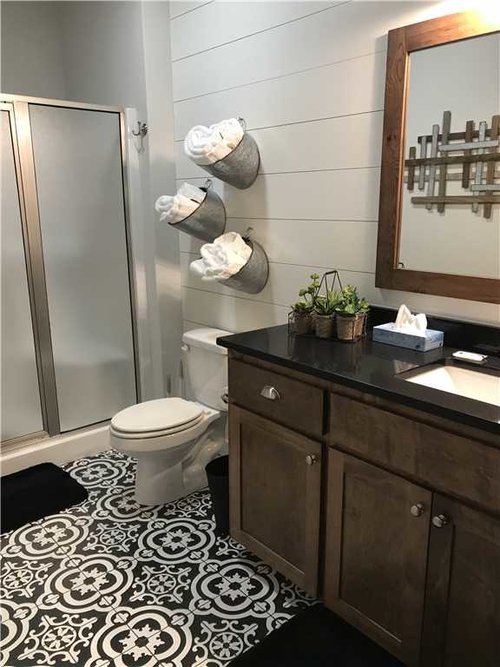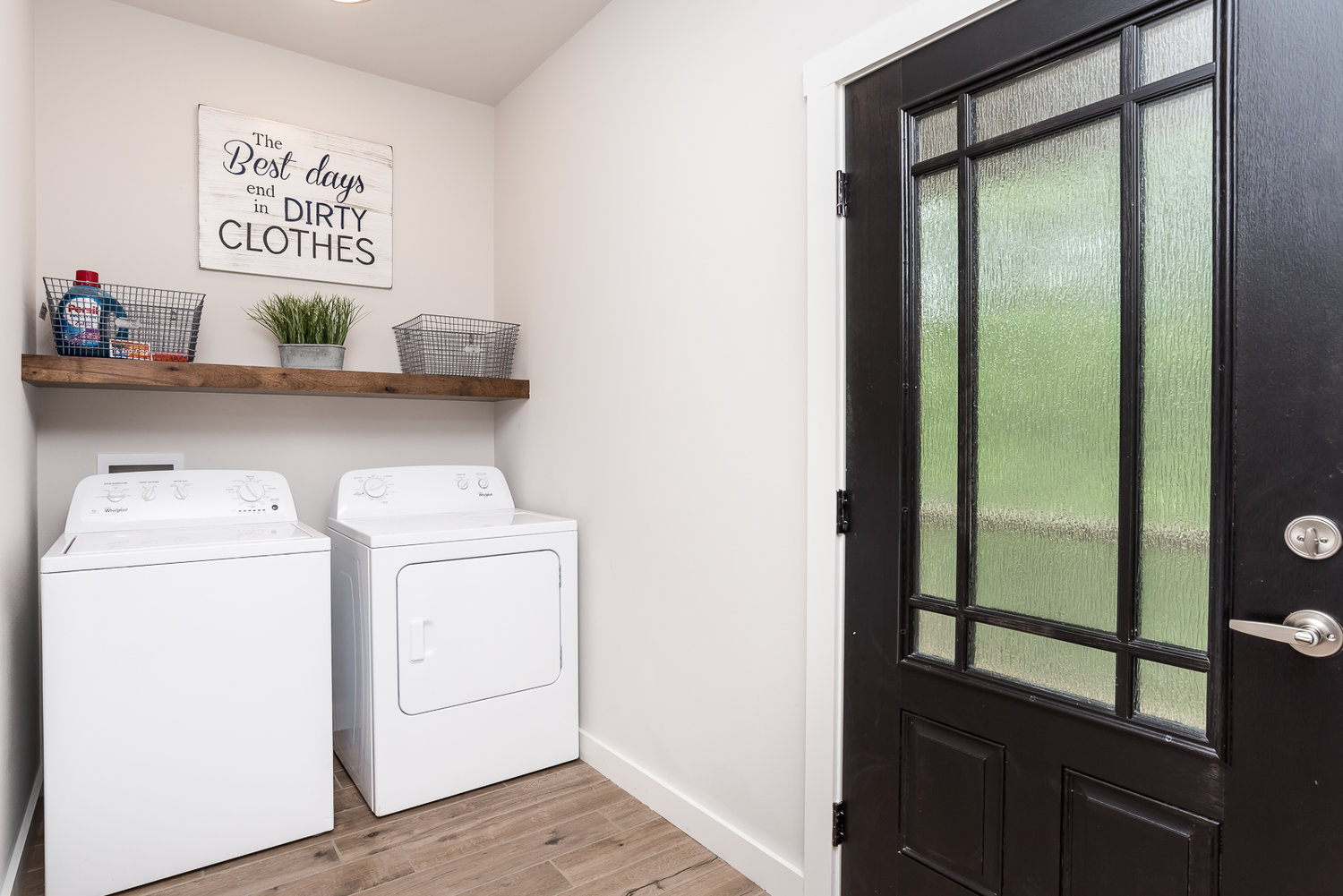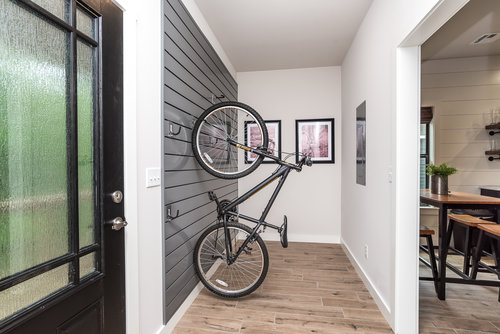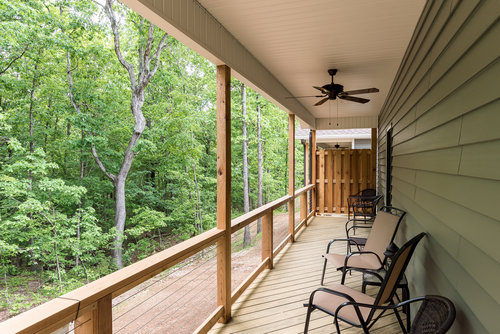 TRIP PARTICIPANTS RESPONSIBLE FOR:
Any ground/air transportation April 19 to the Trails Edge cabins along with return transportation home on April 23.
Daily transportation to different trailhead venues and local restaurants is not included. We will carpool together to various destinations. For many of the rides, we will be biking from our cabins!
Four breakfast and two lunches on your own ( kitchen units are included in each cabin along with the following amenities).
TRAVEL SCHEDULE: April 19 – 23, 2023
Arrival: All participants are responsible for ground transportation to the lodging venue. Participants should arrive between 3 – 5 p.m. Wednesday, April 19, at the Trails Edge cabins. If you desire to extend your stay in Bentonville before or after the scheduled trip dates, we can arrange this for you if desired for an additional fee.
Departure: The bike trip will end with an optional morning ride on April 23 before checking out at 10:00 a.m.
TRIP COST:
$780 Before February 15 (double room occupancy/twin bed with shared cabin area)

Limit of six spots (sold out)
$880 After February 15
$990 After March 15

$980 Before February 15 (single room occupancy queen bed with shared cabin area)

$1,080 After February 15
$1,180 After March 15

Pay by check to save $30 on all registration fees!
REGISTRATION
Request a detailed itinerary and more information at below link (space is limited to 12 participants). All registrations are non-refundable. Please see our refund policy here: Refund Policy and Travel Insurance
About Bentonville, Arkansas
Twenty years ago the town of Bentonville, Arkansas, was not even on the map as a mountain biking destination. Over the last 15 years, however, thanks in large part to investments made by the Walton family, the city has dubbed itself the "Mountain Biking Capital of the World." For 2022, Bentonville ranked #1 in the 'PeopleForBikes' annual city ratings.
Bentonville's journey began relatively recently, with the city's first five miles of single-track opening in 2007 on the north end of town. Today, Northwest Arkansas is home to more than 500 miles of trails, stretching from Bella Vista to Eureka Springs. Bentonville's key to success has been its ability to build trails for all types of riders.
Meet Your Trip Leaders
Kim Rudd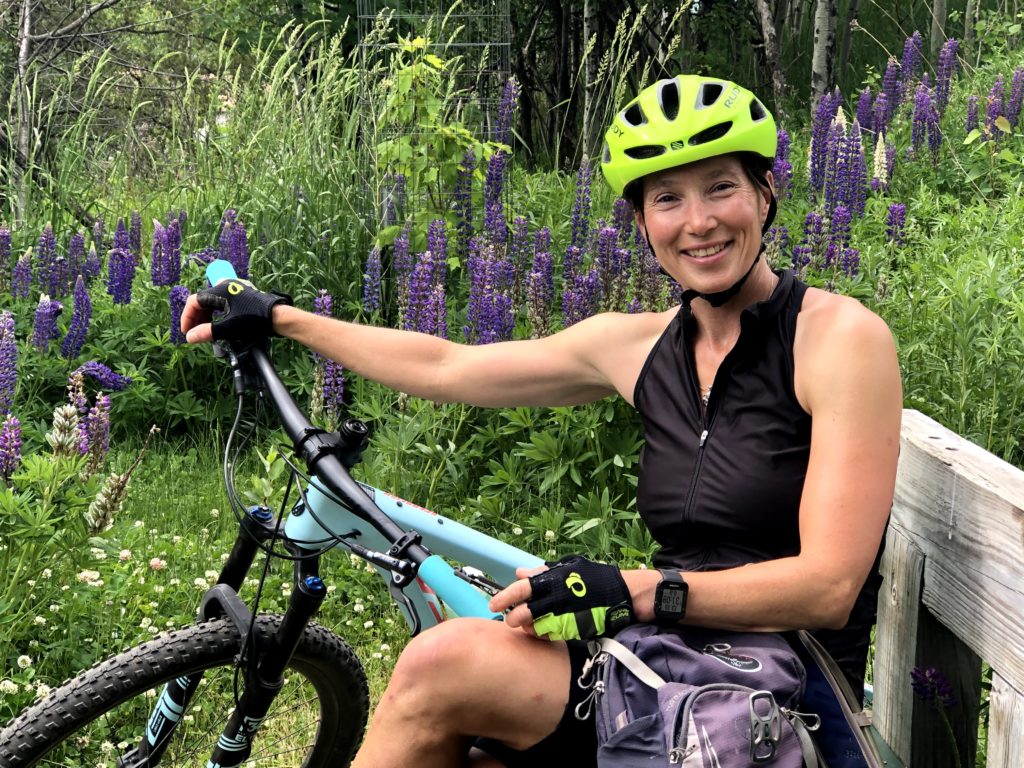 Endurance Adventures was founded by Kim Rudd. Her passion for Nordic skiing started while racing in high school and being exposed to the famous Minnesota Finlandia. She continued to ski race in college at Bemidji State University where she met her soulmate and adventure partner Craig Rudd. Kim has enjoyed racing for Team Rossignol for the past thirty years in various ski marathons around the Midwest and internationally. She also enjoys mountain biking and canoe/SUP adventures along with coaching youth and adults at the Loppet Foundation. Kim is certified as a level 200 BICP coach along with Level 200 USSA Nordic coach. She is excited to share her passion for travel, cycling, and Nordic skiing with other like-minded people!
Leigh Kramarczuk
Leigh grew up in Florida, where she spent a lot of time on the lake as a competitive water skier. On the single-track? Not so much. Leigh's husband, Nick, introduced her to mountain biking when they moved to Minnesota in 2007. Despite her adrenaline-sports background, she found the notion of riding a bike over rocks and roots to be, well, terrifying. It wasn't until she attended a skills clinic years later that mountain biking finally clicked, and she became a more confident rider—and more confident in herself.
Grateful for the instruction and encouragement she received from her mountain biking coaches, Leigh was inspired to bring the same to others. After earning her BICP Level 1 certification in 2021, she obtained her Level 2 in 2022. She also is Wilderness First Aid and CPR/First Aid certified.
Leigh is stoked to use her skills as a communicator (she's a copywriter and the owner of Red Dog Communications) and unabashed love of mountain biking to help you feel more powerful on your favorite single-track.
Lisa Martens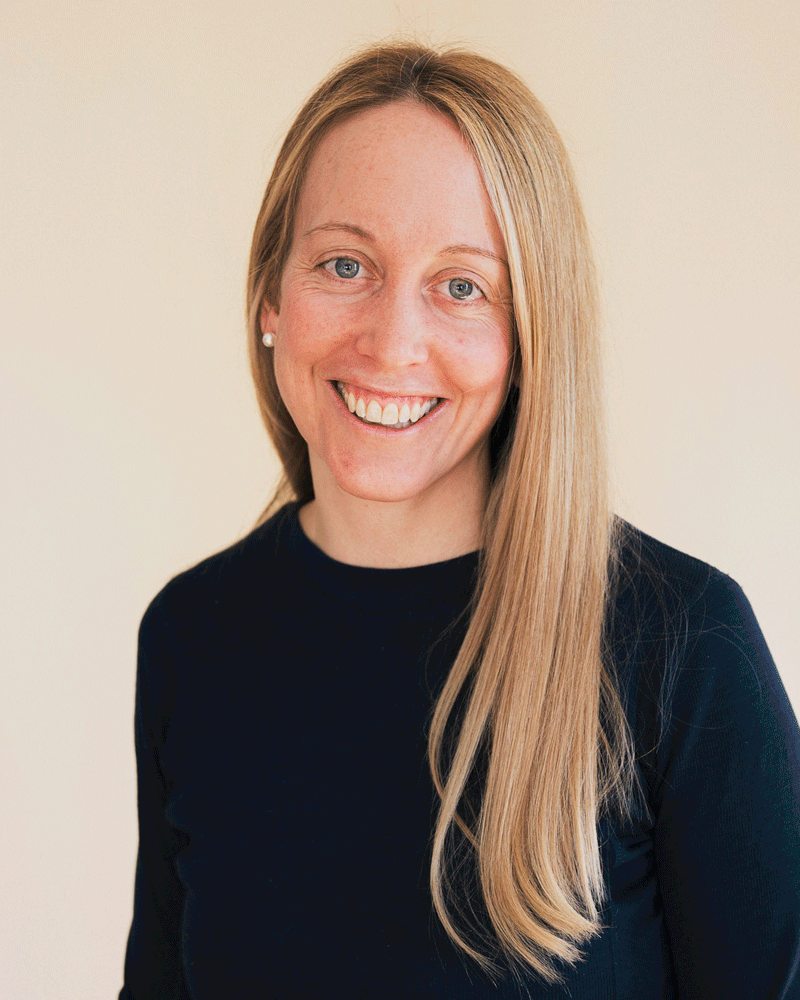 As a native Minnesotan, Lisa has always been drawn to adventuring in the outdoors. However, those adventures never consisted of riding a bike on single track until she met her husband, Bruce, in 2006. Even though their relationship survived that fateful first ride, Lisa barely did (OK, that's a little dramatic), and she didn't pick up a mountain bike again for 7 years!
Like Leigh, it wasn't until attending a formal skills clinic that she first experienced the finesse, flow, and fun of a mountain bike. And the fun hasn't stopped since. Because of the mountain bike, Lisa has had the opportunity to travel, meet amazing people, and coach adolescents through programs like NICA and the National Center for Youth Development. She became a Level 1 certified mountain bike instructor through the BICP in 2020 and obtained her Level 2 certification in 2022. She also trains and certifies instructors as a BICP Instructor Trainer and is CPR/First Aid certified.