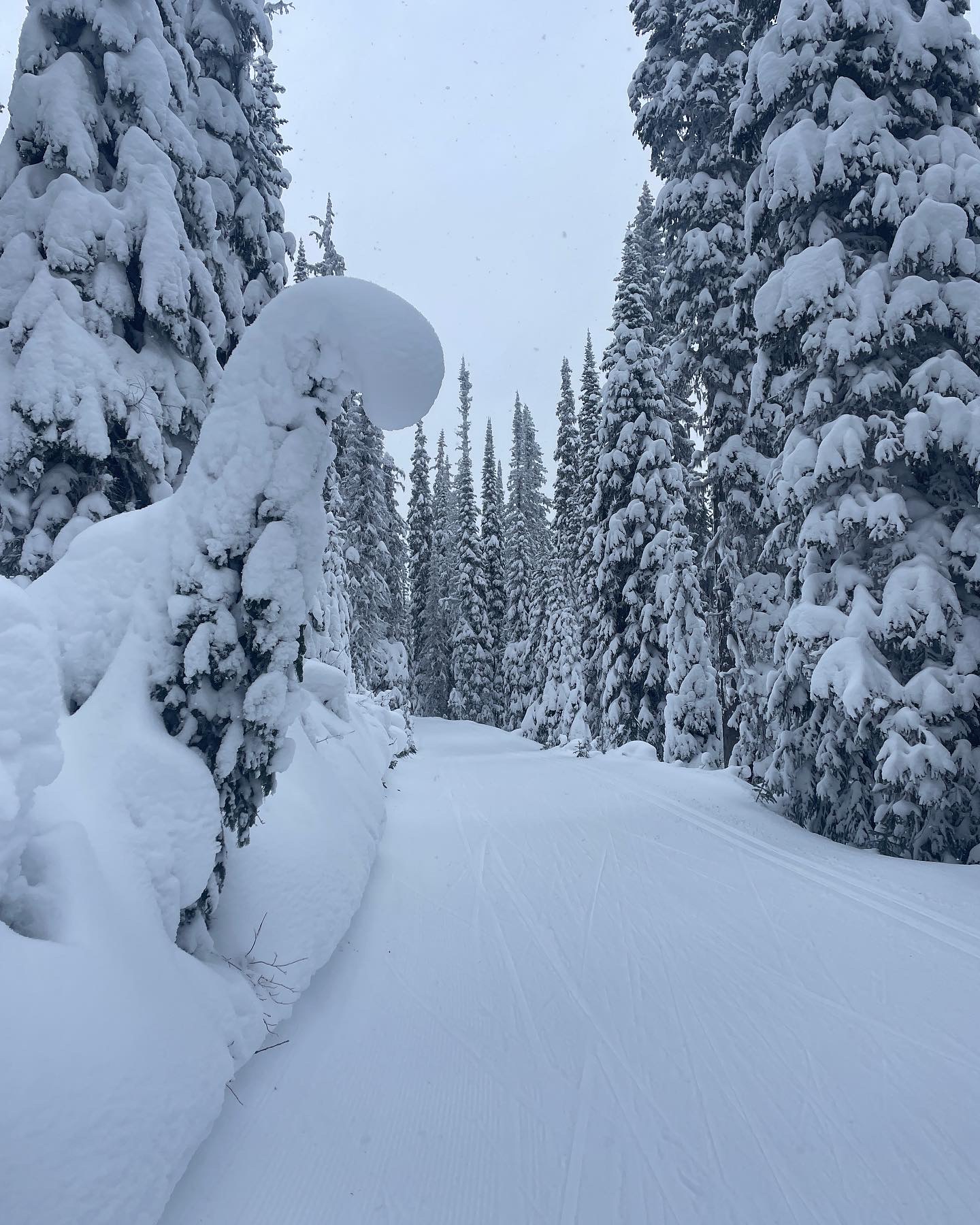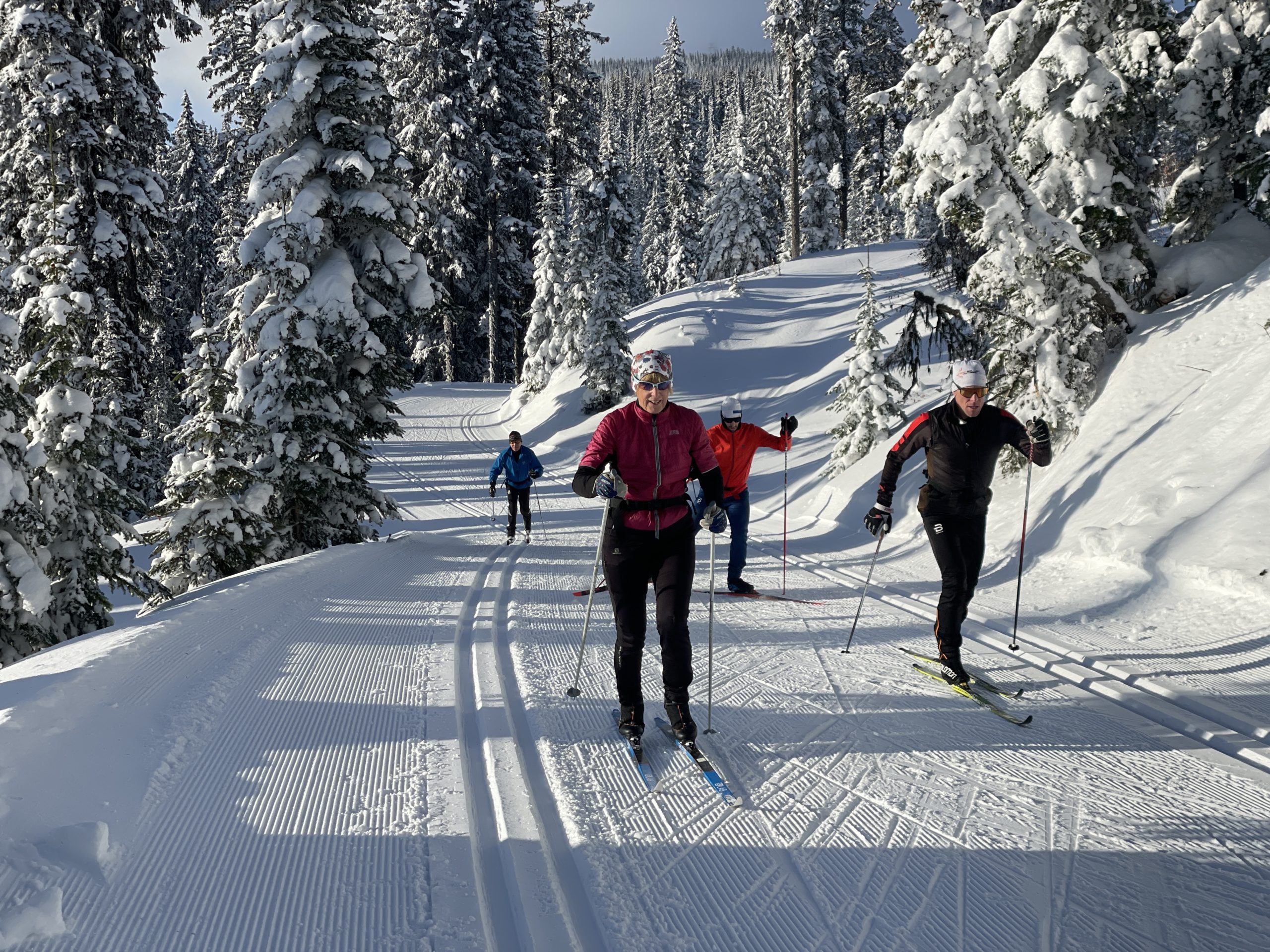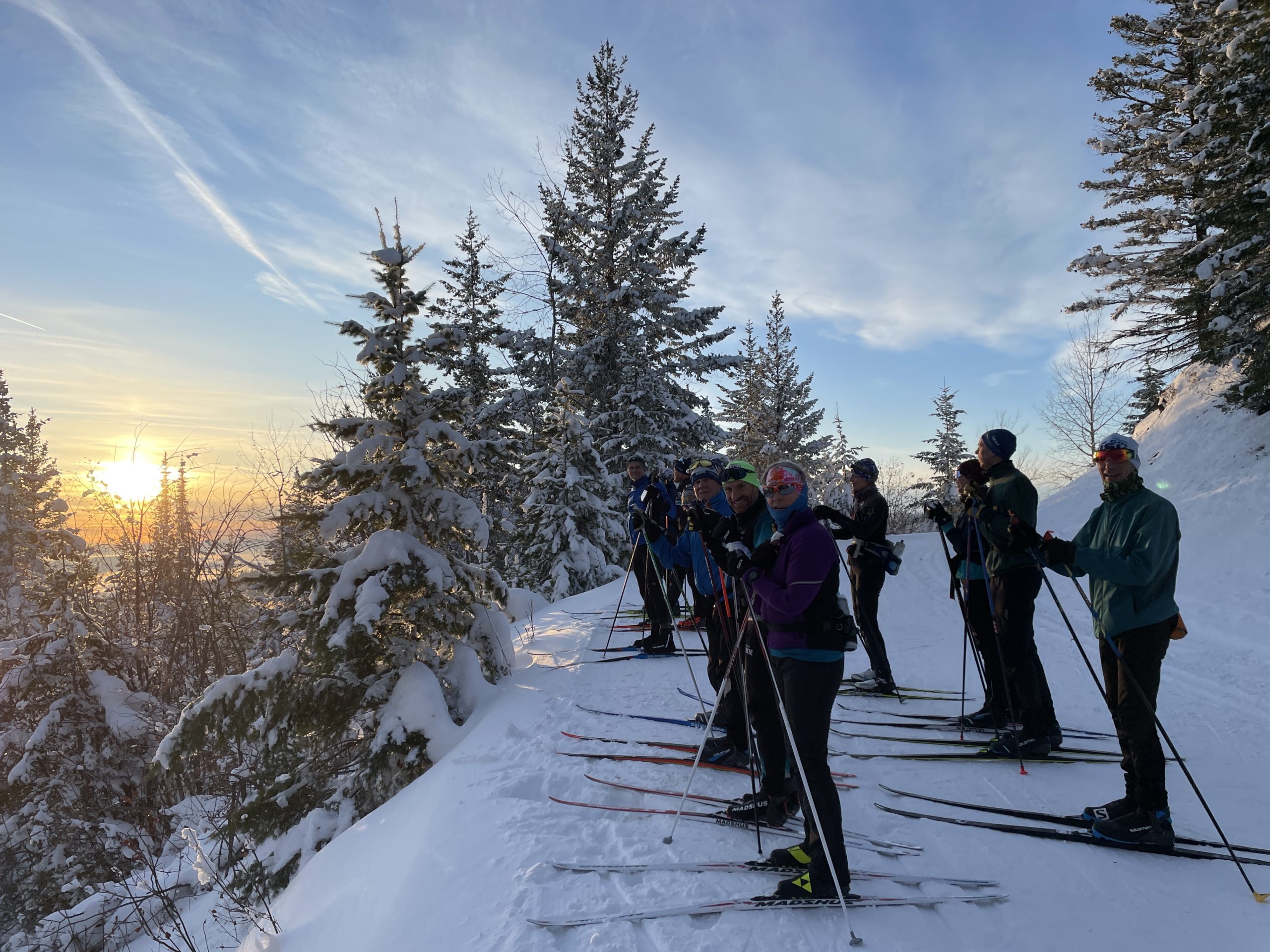 SilverStar skiing up Paradise trail
Sunset group photo on Sidewinder trail
SilverStar and Sovereign Lake
November 28 – December 4, 2023
Desire to Nordic ski on perfectly groomed trails in early December? SilverStar and Sovereign Lakes offer early-season skiing on their combined trail system of 100 km. Ski-in ski-out from Snowbird Lodge with trails at your footstep. Let Endurance Adventures take care of your trip planning details so you can relax and enjoy more time on the trails.
Morning sessions will include a guided cross-country ski session with your trip leaders Kim Rudd and Olympian Brian Gregg. The sessions will include both classic and skate ski technique instruction along with video review. In the afternoon sessions, participants will be free to relax at their condo, ski on their own or in groups on one of the suggested ski routes handcrafted by Brian Gregg. Following your ski outing relax in a private outdoor whirlpool while enjoying appetizers and drinks with your new ski friends! Enjoy conversation and dinner as a group at one of the reserved SilverStar Restaurants. Check out the 2022 SilverStar Trip Blob post for more pictures and testimonials
TRIP DETAILS
Six nights lodging in the four-star Snowbird Lodge.
Ground transportation from Kelowna to Silver Star Village.
Six dinners served together as a group at local restaurants along with one trailside lunch.
Trail passes and lift service access for your entire trip.
Daily ski waxing tips and assistance with kick waxing.
Ski technique review and coaching tips with Brian Gregg and Kim Rudd.
Trailside snacks and appetizers during and after some of the ski outings!
Breakfast and most lunches along with air travel to Kelowna are NOT included. There are multiple restaurants in Silver Star Village within walking distance as well as preparing your own food in your kitchen unit.
ABILITY LEVELS
We will require all participants to have some prior Nordic ski experience. Trip leaders will break into smaller groups geared towards participants fitness/ability levels for the daily ski adventures. The focus of the trip will be exploring the trails in both Silver Star and Sovereign Lakes with 20-30 minutes of daily classic and skate ski technique instruction. Participants can choose to ski from a variety of shorter (10km) or longer(20 – 30km) distances for each ski outing depending on their fitness and ability levels. Trip leaders will provide a variety of ski itinerary options for all ability levels so that everyone can enjoy the trails at their desired pace. Each day the ski gondola lift ticket can be used twice per day with your Nordic ski pass providing shortcuts to avoid long hill climbs. For more information visit our FAQ page.
LODGING
Participants will stay at Snowbird Lodge, located right in the center of Silver Star Village with quick access to the gondola ride. Participants can choose three different options for lodging:
TRAVEL SCHEDULE:
Meet in Kelowna, BC on Tuesday, November 28 for group trip transportation to SilverStar Village.
Return from SilverStar village December 4 to Kelowna, BC for flight back home.
COST:
Prices below are based per/person for a double room occupancy studio room. Upgraded price for single occupancy is $500. Upgrade for one or two bedroom suites is an additional fee. For more detailed descriptions of lodging options request more information below. Space is limited to 12 participants so sign up soon!
$2,800 Before October 1
$2,900 Before November 1
REGISTRATION:
Registration Opens May 1, 2023 (space is limited to 16 participants).
Request a detailed itinerary and more information on how to register at the link below: