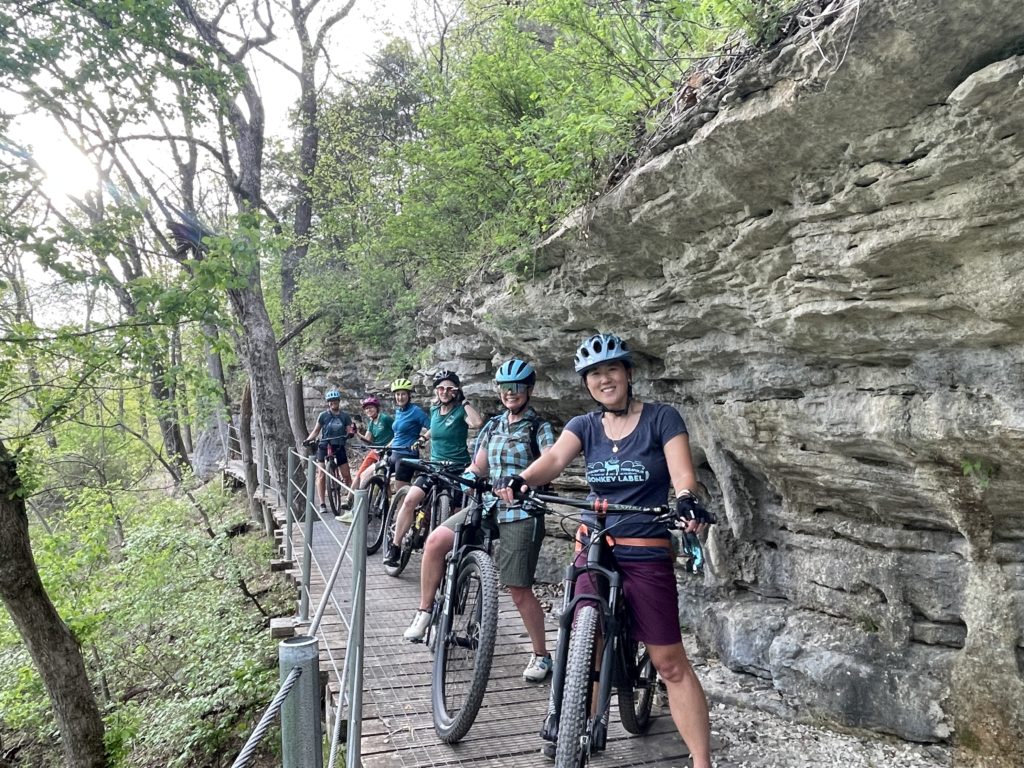 "Best of Bentonville" Women's Endurance Adventures Mountain Bike Trip Highlights
There is something magical that happens when you gather like-minded women who love to shred dirt. The "Best of Bentonville" trip had nine participants and three trip guides. A few women came on the trip as solos while others signed up with a friend. We kicked off the trip with an evening single-track ride starting on the Back 40 Trail located just behind our cabins. The group enjoyed views of the sunset while riding on the Blowing Springs Trail system built along a beautiful rocky bluff. Following the ride, participants enjoyed a home-cooked meal of curry sitting on the porch of our cabin. Within just a few hours, the group of women had already bonded and were excited for the upcoming days of bike adventure.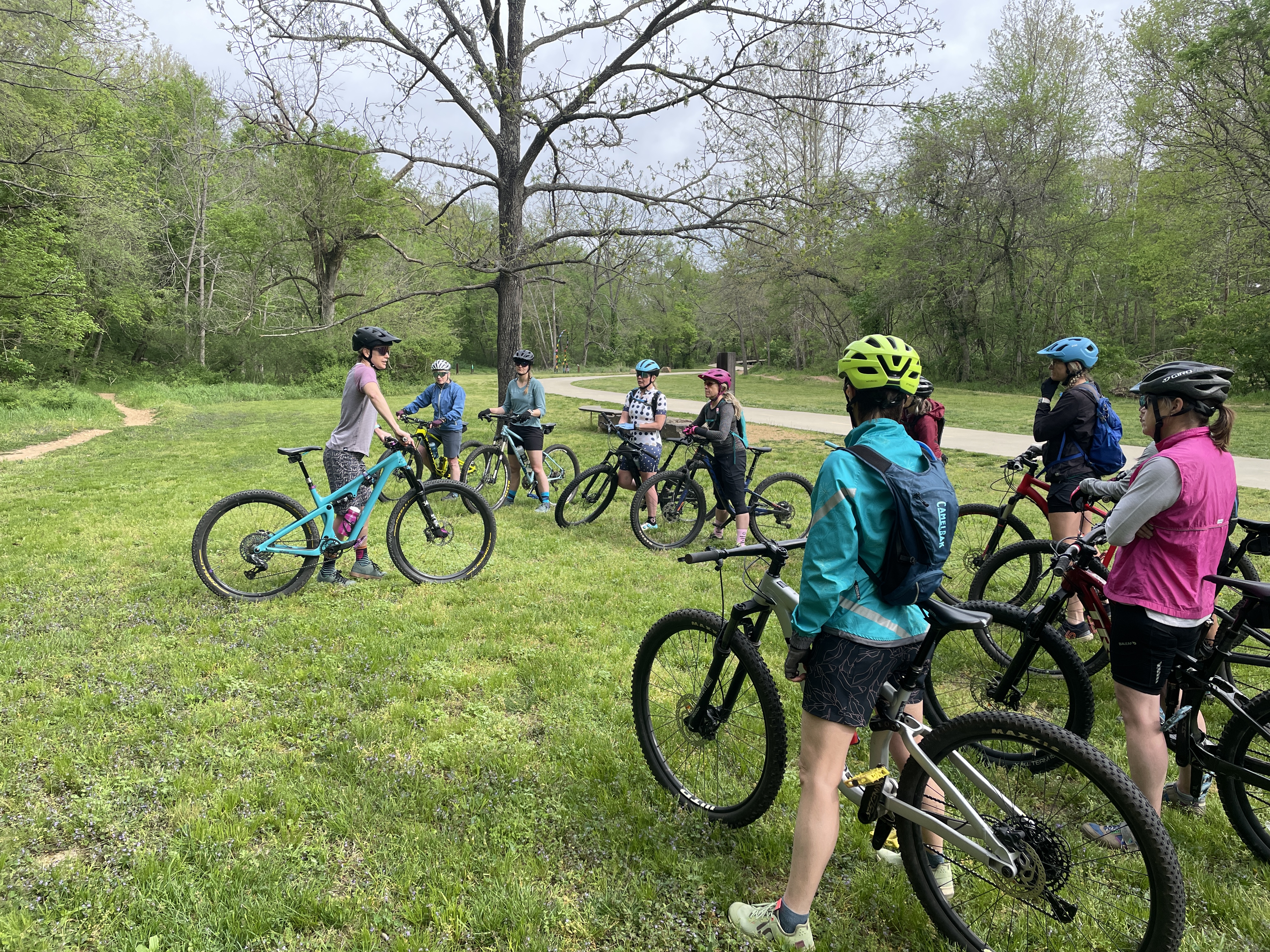 Endurance Adventures joined forces with Stöke MTB for the Bentonville women-only trip. Trip leaders Kim Rudd, Lisa Martens, and Leigh Kramarczuk are all level 2 BICP certified coaches. Before heading out onto the trails, each morning sessions included coaching on the fundamental skills of mountain biking. On the first day, participants were guided through the Bentonville trails starting from Main Street all the way to the flowy trails of Slaughter Pen.
Trail builders had just completed the Castle Trail which includes an uphill climb to a castle structure with multiple flowy downhill runs. Almost six hundred miles of single track trails have been built since the founding of the Ozark Trails in 2016. Bentonville provides a variety trails for the beginner to advanced adventure seekers.
The Ozark Trail system runs through forests, state parks, urban Bentonville, and suburbs. Many who live in the community show their hospitality along the trail by providing coolers of cold beverages and granola bars for the hungry mountain biker. On one of my pre-trip rides on Tunnel Vision trail there was a cooler filled with cold sodas, water and alcoholic drinks!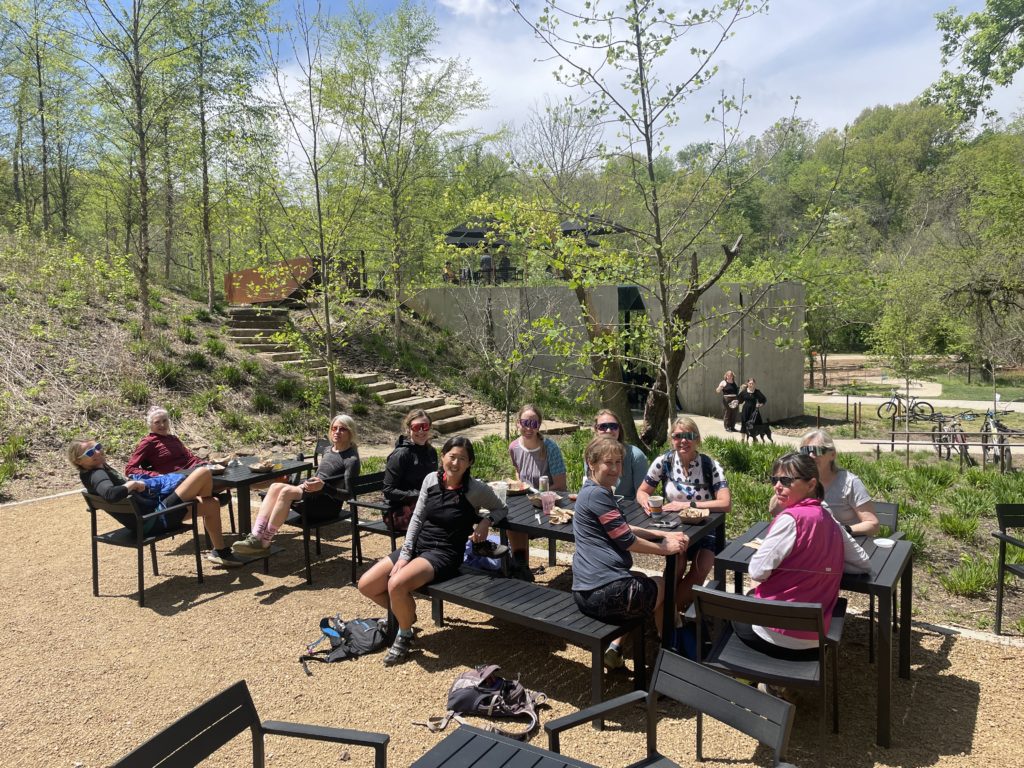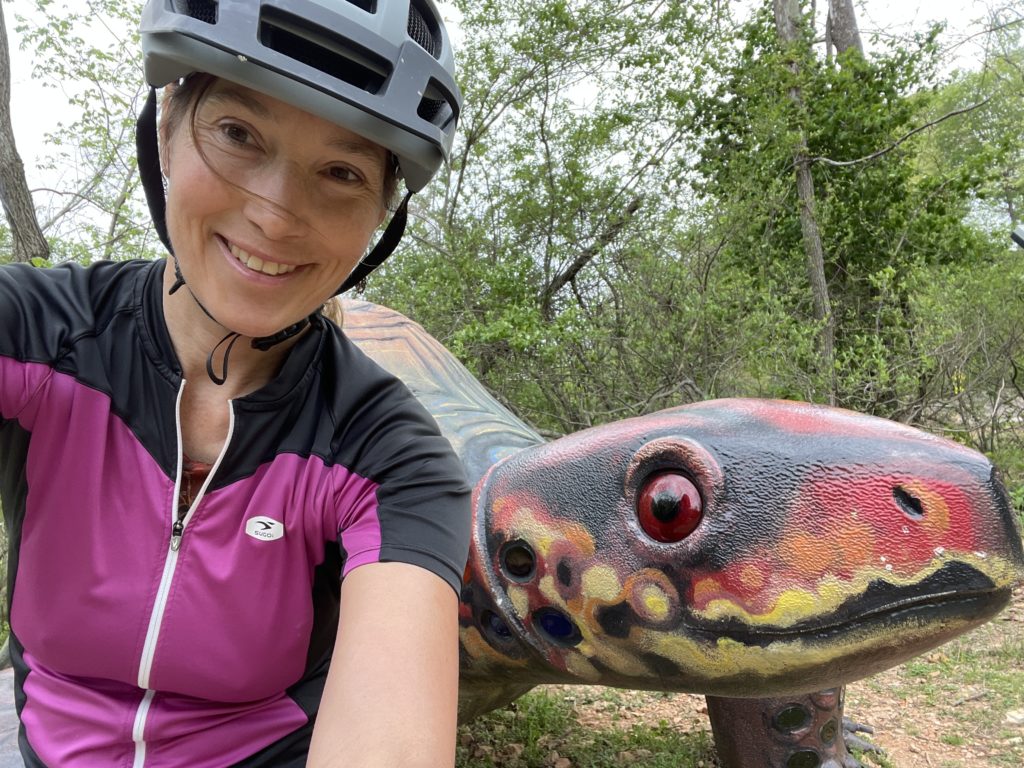 Along with a great trail system, Bentonville offers a multitude of cultural and culinary experiences. After exploring the trails at the Coler Mountain Bike Preserve, women enjoyed eating outside at the Airship Café located in the middle of the bike park.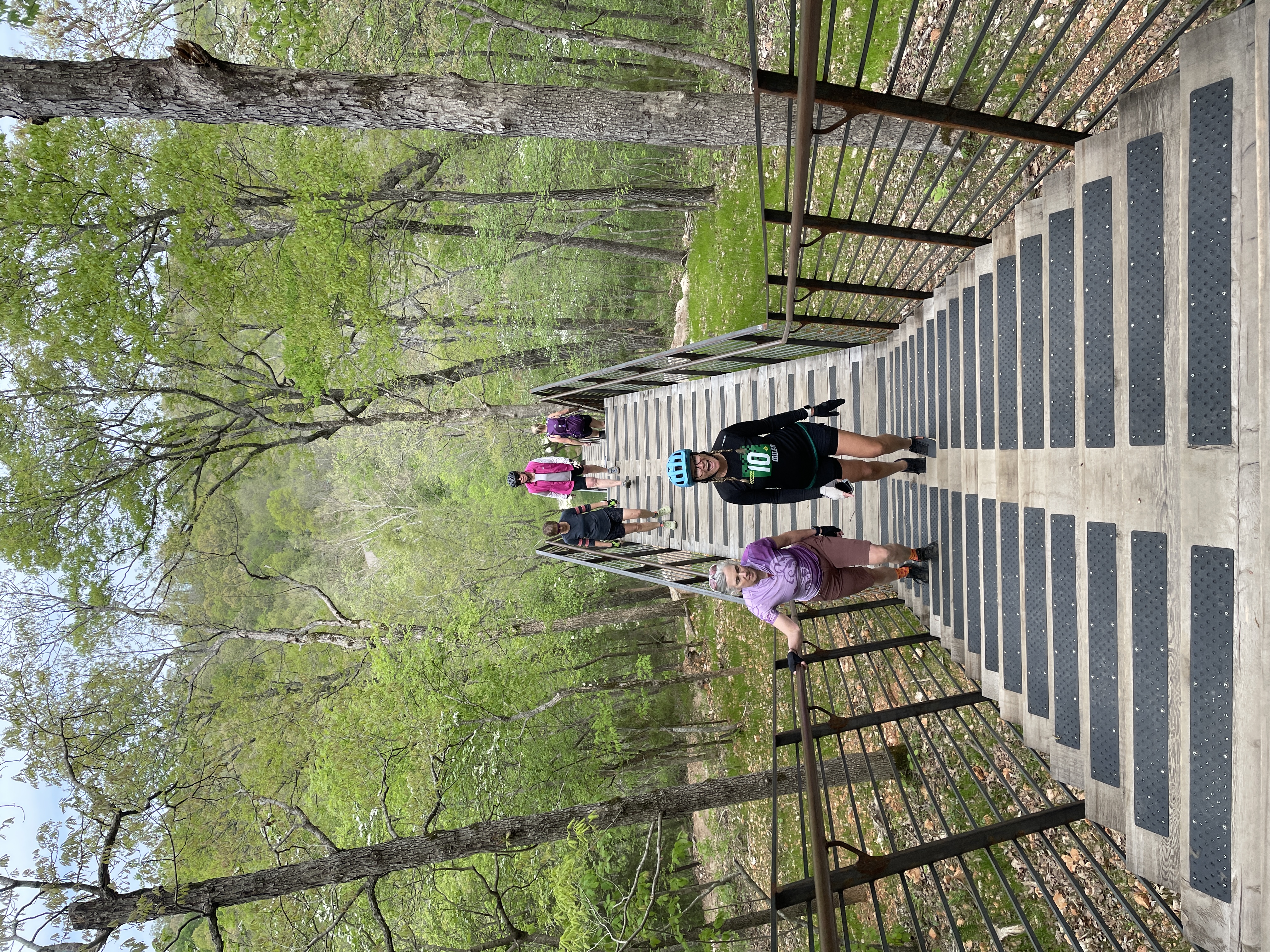 Participants also climbed the newly built staircase structure called the "Rise" which was inspired by workout stairs in Santa Monica, California. The journey ascends 185 steps, each with a 7.5" rise, and is equal to 11 flights of stairs. Every park has hidden art sculptures along the single-track trail or hanging in the trees!
Participants enjoyed an evening walk through the Listening Forest outdoor interactive exhibit at the world-class Crystal Bridges Museum of Art. The artist Rafael Lozano-Hemmer created eight immersive installations, each one activated by a person's heart rate, body, voice, and movements. Quite an amazing experience to hear your own heartbeat under the sensor while at the same time watching the light sticks glow in a rhythmic beat.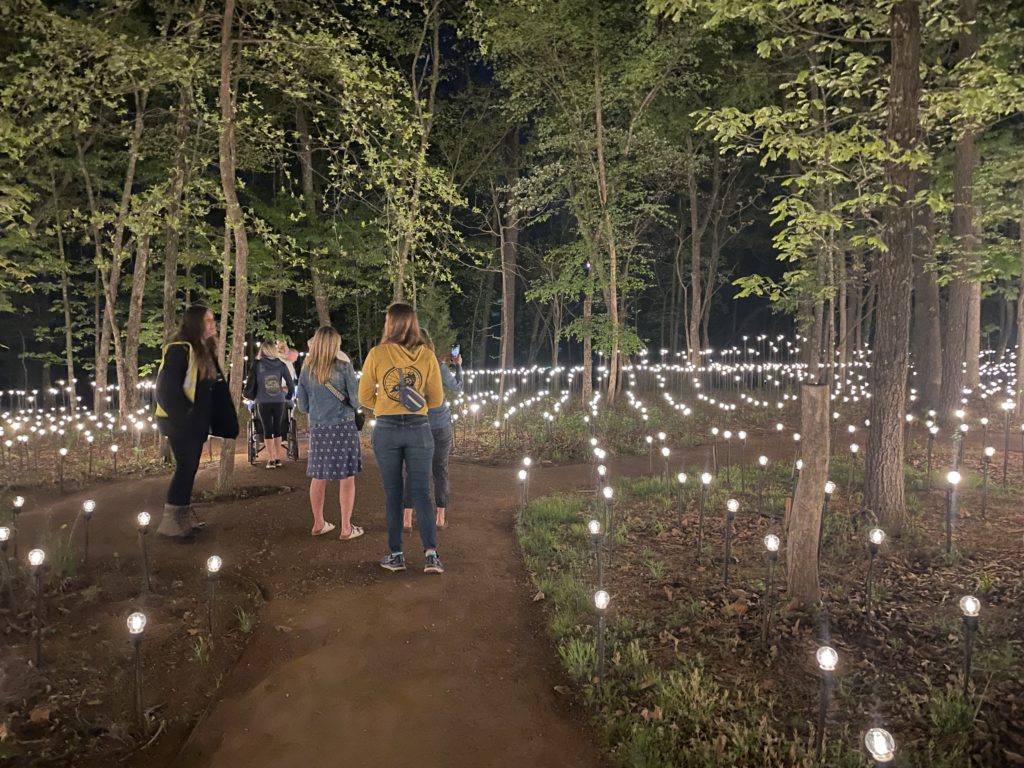 Most of the Endurance Adventure trips provide trailside lodging so participants can easily ski or bike from their front door. The Trails Edge lodging in Bella Vista allowed quick access to over a hundred miles of single-track trails that provide a wide variety of exciting, surprising, challenging, and rewarding riding experiences.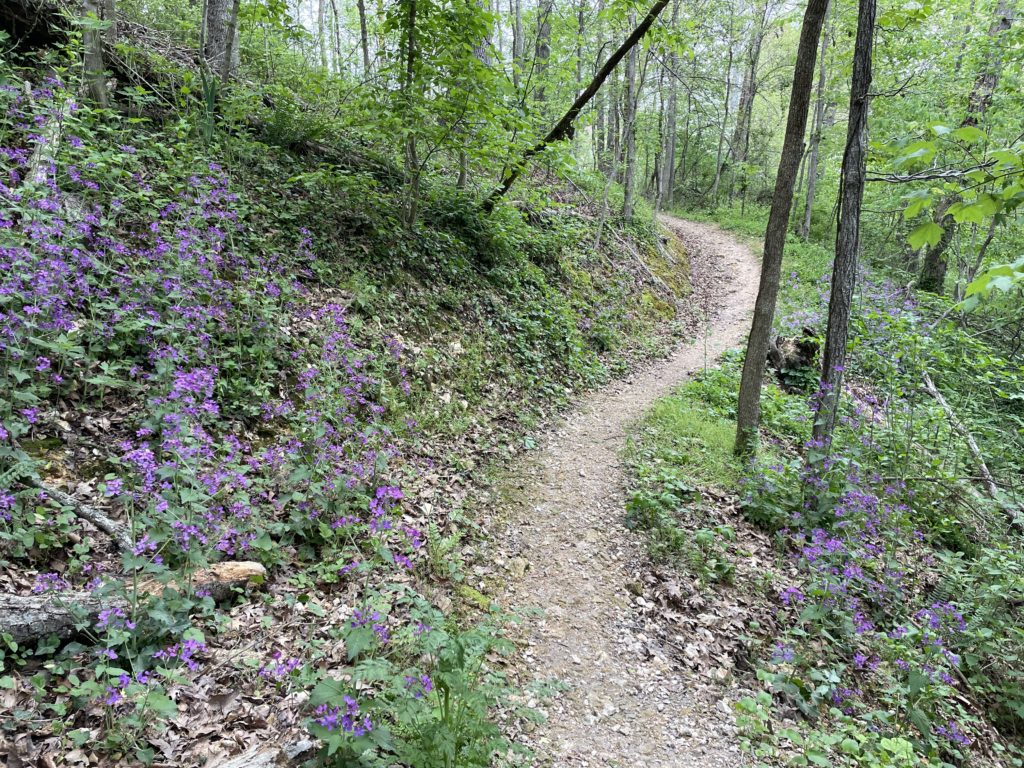 The natural beauty of the Bella Vista area offers views of caves, lakes, and waterfalls making it one of my favorite trail systems in the Bentonville area. The best part of going to Arkansas in April is escaping the prolonged cold Minnesota spring weather. Women enjoyed biking in shorts, smelling the scent of apple trees blooming, and gazing at wildflowers as they rode through a variety of single-track trails.
For the final day of riding, women enjoyed the flow trails at Hobbs State Park. Hobbs is Arkansas's largest state park, spanning a 12,054-acre tract of Ozark landscape along the southern shore of Beaver Lake. Women enjoyed riding along the lake and climbing to the ridge with amazing views of the water below.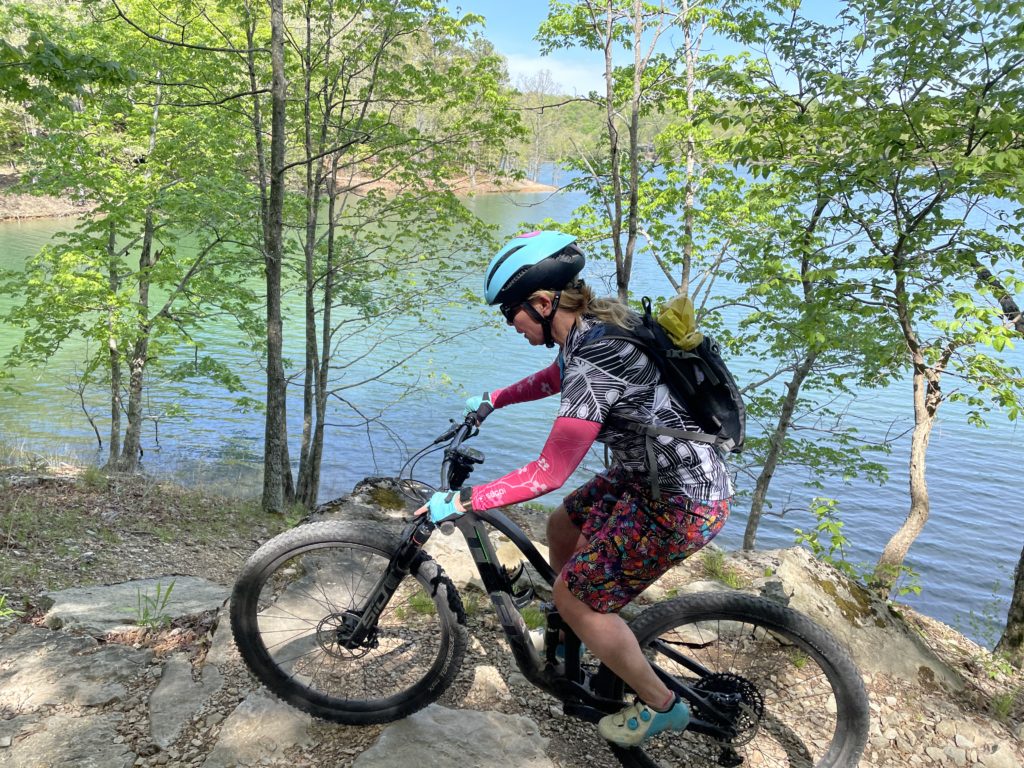 Endurance Adventures desires to provide stress-free guided trips for those who may be too busy to plan their own vacation. Many of these women commented on how they enjoyed just showing up and not having to worry about what trail to ride or restaurant to reserve for dinner.
Our past trip participants have also expressed the value of excellent coaching on both ski and mountain bike trips. Endurance Adventures desires to equip men and women with new skills for beginner to advanced athletes. Most importantly, we desire to create community connections on each of the trips. The night before the Bentonville trip departure, the women embraced in a large group hug and said our goodbyes. My heart and soul were filled with a sense of connection to nature and my new trip friends.
Next year's women's "Best of Bentonville" mountain bike trip is scheduled for April 9 – 14, 2024. The trip will focus riding trails in the Bella Vista and Blowing Springs area so we can do less driving and more riding! For more information on one of our upcoming 2023/24 Endurance Adventures bike and ski trips visit the Endurance Adventures website here. Registration opens May 1st!