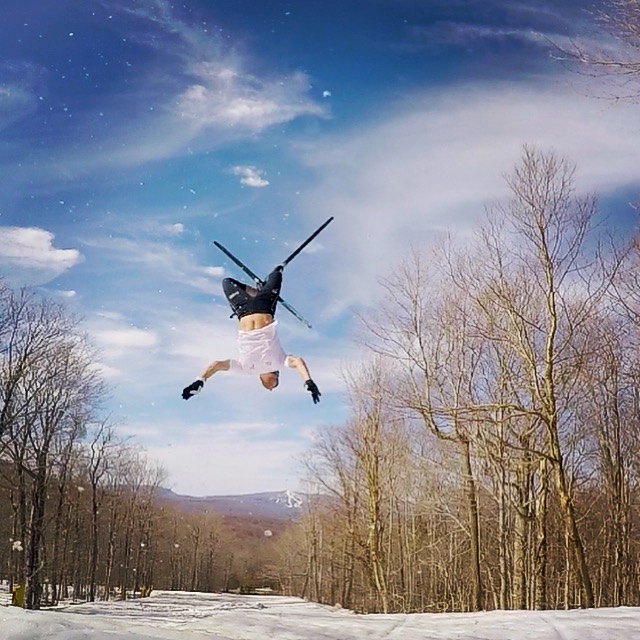 The Andy Newell Story
Andy Newell
Andy Newell is a 4x Olympian and 16-year member of the US Ski Team. His passion for ski training and racing has brought him to the start line of over 200 World Cup races and to several World Cup Podiums. Newell believes in being a student of the sport and continuing to learn the latest in training theory while keeping things simple, fun, and straightforward. Considered one of the best technical skiers in the World he enjoys teaching technique to skiers of all ages. Newell has an experienced background in ski training, race preparation, strength and conditioning for skiing, mental training, and team building. In addition to coaching for BSF, he runs Nordic Team Solutions.
Over the last four years, my daughter Hannah has enjoyed training on the BSF Pro Team led by head coach and Olympian Andy Newell. I have had the pleasure of hosting the BSF team at our home in Plymouth and cabin in Hayward for past Super Tour race events in both Wisconsin and Minnesota.
As a coach and athlete, I have personally benefited from Andy Newell's Nordic Team Solutions which has provided incredible ski technique drills along with educational articles. I am honored to interview Andy about his early years that led him to the Olympics and World Cup circuit and now as a full-time BSF Pro Team coach and business owner of NTS.
Early Racing Years
Andy was fortunate to grow up near a Nordic ski area called Prospect Mountain in southern Vermont. Neither of Andy's parents skied, but they signed up all three of their children for youth ski programs. Andy was the youngest of three children so was often trying to keep up with his older siblings. He started skiing as soon as he could walk and racing came not long after that!
Andy stated, "We were lucky to have strong community leaders in the area including Bucky Broomhall, who started what later became the Bill Koch Youth Ski League. I had great instruction from Bucky and the local club coaches from the NENSA (New England Nordic Ski Association)."
In addition to training with Prospect Ski Club, Andy started attending training camps with the Stratton Mountain Ski School led by Sverre Caldwell. Andy attended public school in Bennington, VT, and participated in the full gamut of sports from lacrosse to soccer, and even wrestling. Andy shared," I was reluctant to commit to skiing but decided to try SMS my 8th-grade year and started training year-round. A few years later in 2001, I attended my first World Junior competition in Poland where I fell in love with the sport. I finished 6th in the sprint that year and saw for the first time what an exciting and global sport Nordic skiing was in a different country. It was a whole different ball game with TV cameras and tons of spectators along the course."
World Cup Racing Years
Andy raced his first World Championships in 2003 as a 19-year-old. The following season he jumped up into the World Cup racing scene. During this same period, Kris Freeman and Kikkan Randall were both charging to the front in many of the competitions. By 2004 the US Ski Team began cracking into the top 15 and by 2006 Andy reached the podium for the first time in Changchun China.
"It felt like the US ski team was on the cusp of something new and exciting," shared Andy. "By then we were racing full World Cup seasons, which historically had been rare for the US Ski Team. Racing on the World Cup circuit was like living in a different dimension! Traveling the world for sixteen years passed in the blink of an eye. Racing the World Cup was very rewarding growing up with coach Grover and the rest of the US Ski Team staples."
Entrepreneur Years with X Ski Films
During Andy's first few years of racing in the World Cup, he started a film-making company called X Ski Films. Back then if you lived in the US there was no way to watch World Cup racing the way we can stream it now on YouTube. "Our first production came out on VHS tape (this is throwing it back). I desired to show people how fast-paced, fun and exciting cross-country skiing could be. The backflips and halfpipe skiing that I performed got a lot of attention," shared Andy.
"I have always been someone who finds motivation in different forms. Ski training has been my main focus since I was 15 years old and continues to be even now, but there are 24 hours in a day so I get excited about side projects that motivate me to grow as an individual. Ski training doesn't have to be serious; it can be fun and professional at the same time and having fun on skis, playing on skis, is so important. I think it has helped my racing tremendously," shared Andy.
The whole X Ski Films craze peaked when Andy was pictured on a split cover of Outside Magazine going off a jump. The main goal of the films was to bring cool skiing footage to US eyeballs. Andy put out three scrappy productions over the years and even worked with Fischer to develop a freestyle Nordic ski called the Jibskate. In the end, the Jibskate did not take off and they discontinued the ski. Andy commented, "Nowadays Jibskates are hard to come by, I think Ben Ogden stole my last pair."
Olympic Years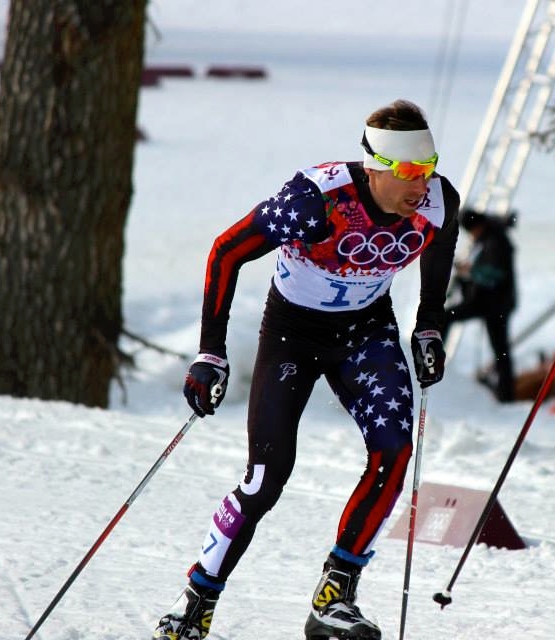 When asking Andy about his experience at the Olympics he shared, "I love the Olympics for how they motivated me as a kid and for the experiences I had, but being an Olympian is just a small part of being a skier. In a lot of ways, I'm disappointed with what the Olympics have become. Just a corporate shit-show that the IOC will sell to the highest bidder with very little thought about environmental and humanitarian concerns."
" They say "Drink Coke", and "Buy Sony", but as an Olympian, you are not allowed to mention the hometown sponsors that have helped achieve your goals. All the money generated from the Olympics goes to the 1% of the 1% and a lot of the negative impacts of the games are covered up."
Andy continued, "The Olympic idea is amazing, I'm just a major critic of the IOC and the USOC. Luckily, we are part of a sport that goes well beyond the Olympics. We have World Championships, a competitive World Cup Tour, and races like the Birkie, Vasa, etc. that can build careers outside of the Olympics. I'm prouder of my podium at the Drammen World Cup than any Olympic team I was on."
Environmental Protection Advocate
In 2013 Andy founded the environmental Organization called Athletes For Action. Around the time of the Sochi Olympics, he was volunteering with an environmental organization called 350.org led by Bill McKibben. Andy stated, "Bill is an author and a total badass! We began corresponding since we were both frustrated with the IOC and the Sochi organizing committee."
" They essentially took National Parks that were protected in Russia and removed the regulations to build the Olympic villages. They mowed down protected forests to build the Alpine areas and diverted riverways to build Olympic hotels. There were horrible conditions that the migrant workers were subject to while building the Olympic site just for Putin to create a failed tourist destination. The Olympic Village construction took the lives of 70 workers over 3 years, an Olympic fact they don't highlight."
"Athletes for Action was Bill McKibben's idea and he worked with Andy to draft a letter that athletes could sign urging world leaders to do better. Andy was the lead athlete on the project. Andy shared, "It didn't make huge headlines, but it was a step in the right direction. This was right at the time when Jeremy Jones was starting the organization called Protect Our Winters. Athletes for Action melted into what is now known as Protect Our Winters. POW has grown over the decades and is a wonderful organization. I have had the privilege of working with them and lobbying in DC. I met in person with the Obama administration and continue to help them out when I can."
BSF Pro Team Coach and Nordic Team Solutions
The transition from an elite World Cup racer into a coaching role felt natural to Andy. "In a way, I always knew I would be involved in the coaching world in some capacity," shared Andy. "Even as an athlete, I enjoyed doing clinics and working with others on ski technique. I've always found training theory and physiology interesting."
"The word retirement doesn't mean much to me. I still don't feel like I've retired from elite skiing, I just have different responsibilities now. Some days it's hard and I miss the excitement of the World Cup, but most days coaching is the best job in the world. It's refreshing to put my energy toward helping others achieve their goals versus worrying about what my heart rate is and whether my HRV is in the green."
"It is my pursuit to improve that continues to drive me forward. We can always improve, whether that's on the race trail or in how we coach. That's what sparked the idea for Nordic Team Solutions. NTS embraces the concept that XC skiing is always evolving and we need to adapt our approach to training as well. I truly believe in the concept of being a student of the sport," shared Andy.
NTS currently has around 800 members from North America and internationally. The subscribers to NTS are a mix of masters, coaches, and some elite-level racers who are self-coached.  Andy shared, "I didn't know what I was building when I started NTS but it's been super fun. I want it to continue to grow and make the platform even more social."
"We are trying to make updates to the website to reflect this, but I think the social aspect of training is what makes XC Skiing so unique. It's cool to think that you could be doing intervals with several hundred other people daily! Being able to share the process of training with others and allowing them to share ideas with others creates a sense of community."
Andy stepped into coaching the BSF (Bridger Ski Foundation) Pro Team in 2020. My daughter Hannah has enjoyed Andy's coaching over the past four years as a team member. Last year athletes Logan Diekmann, Sarah Goble, and Finn O'Connell qualified and competed in several World Cup race events. BSF has several more opportunities this year with World Cup races in Canmore and Minneapolis. Andy desires to help his athletes make the jump from domestic racing to the World Cup.
Andy shared, "Although the US Ski Team has grown substantially in the last 20 years, developing athletes fall on ski clubs. This is why I encourage anyone passionate about the long-term development of skiing in the US to donate to a ski club. This year we have a lot of talent on the BSF team and we added three new members: Erin Bianco, Noel Keeffe, and Willson Moore. I think every member of the team has a chance to qualify for World Cup events. The chance for our athletes to compete at the upcoming Minneapolis Loppet Cup would be a once-in-a-lifetime opportunity"!
Favorite Ski Venues
When visiting Vermont, Andy's favorite place to ski is at Prospect Mountain or Wild Wings in Peru. Andy resides in Bozeman and enjoys training at multiple venues such as Crosscut Mountain Sports Center. Andy shared, "We have a ton of skiing opportunities depending on the day. For long skis, the team trains at Sourdough Trail, which has 30+ km of grooming. We also have local town trails right in Bozeman that BSF grooms."
Marathon Racing & Training
When asking Andy about his marathon racing experience he shared, "Although sprinting was my premier event in the World Cup I did race a decent amount of distance races. I raced the Holmenkollen 50 km a few times which was a once-in-a-lifetime experience. I did not get the chance to race the American Birkebiener until I was transitioning into coaching in 2020. It was sweet! I never knew how cool the atmosphere was and how it embodies so much of what makes American ski culture great. I'd love to get back to the Birkie start line any chance I get. For many years it's just not possible logistically since I need to focus on supporting the BSF racing team."
Andy continued, "The best marathon racing strategy is to be prepared. There is a simple saying in sports physiology that I love, "You get good at what you do". Building a base in a sport-specific modality is important to performance. For most marathon skiers this means that the bread and butter of your training should be easy distance L1 training and building these sessions so you can ski for 3 hours comfortably."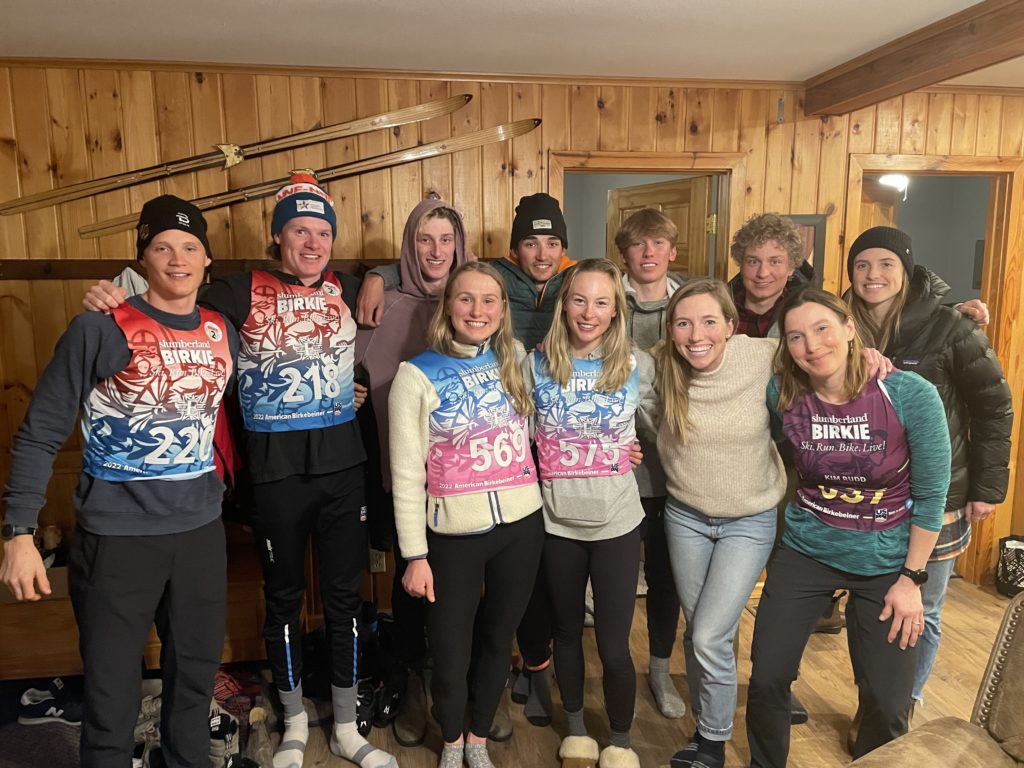 "For most folks, the best thing they can do for their skiing is to roller ski 2-3 times per week in the summer if they are not doing so already. It's not going to sound exciting but building easy distance hours is key, shared Andy. It's easy for someone to sign up for a race and immediately think they need to start doing intervals. Intervals are like icing on a cake; it's the fancy part, so it gets lots of attention, but it's not always good for you." Below are a few marathon training suggestions from Andy that can help you achieve a successful marathon race.
Start your training by building a specific aerobic training base by getting 60+ minutes 6 days per week.
Slowly build up to 90+ minutes 3 days a week, and 2+ hours one day per week. Once you can do this you are now ready for intervals.
I would recommend working on a combination of controlled L3 sessions (a sustainable, feel-good marathon pace) and short/hard intervals. Start with 3 x 10 min and build to 4-6 x 10-minute L3 intervals at a sustainable marathon pace.
To improve technique and power, complete short intervals at a level 4 race pace in the 30-90-second range.
Family and Hobbies
Erika Flowers and Andy met in Stratton, Vermont while he was training there in 2011. Sverre and Andy began dreaming about starting a pro team at SMS and they started building the SMST2 team. Erika, joined the team right out of college in 2012, the next year they started to recruit skiers like Jessie Diggins.
Andy shared, "The relationships you build with your teammates while professional skiing are so unique; they are some of the strongest friendships you can ever have. Thanks to skiing, I feel very fortunate to have met my lovely wife Erika."
 Andy has not had much time for hobbies since he has spent the last two years building his house in Bozeman. He recently started dabbling in longer-distance trail running. His wife Erika runs for The North Face and over the past year, "We have traveled to some cool races together, including UTMB in Chamonix," shared Andy.
The last weekend in October I had the chance to ski with Andy and the BSF team on a short visit to see both of my daughters in Bozeman. The team was thrilled to have early-season skiing at Crosscut Nordic Center with fresh powder and rolled trails.
In one of the workout sessions, I skied with the girls' team for their long over-distance skate workout. I was reminded of how slow you are supposed to ski while training in level 1.
I can often get caught up in the excitement of new snow and want to ski fast or try to keep up with other skiers. My advice for you this winter would be to challenge yourself to ski your long workouts at your level 1 pace rather than the level 2 junk training pace. This will make all the difference in your race performance!
Endurance Adventures sends a huge thank you to Andy Newell for taking the time out of his busy coaching schedule personal interview. He has made a huge impact on the ski community and I look forward to seeing how Andy continues to challenge athletes from his inspiring coaching. If you desire to improve your ski technique and training tactics I highly recommend subscribing to Andy's Nordic Team Solutions.
Kim Rudd, Endurance Adventures Owner