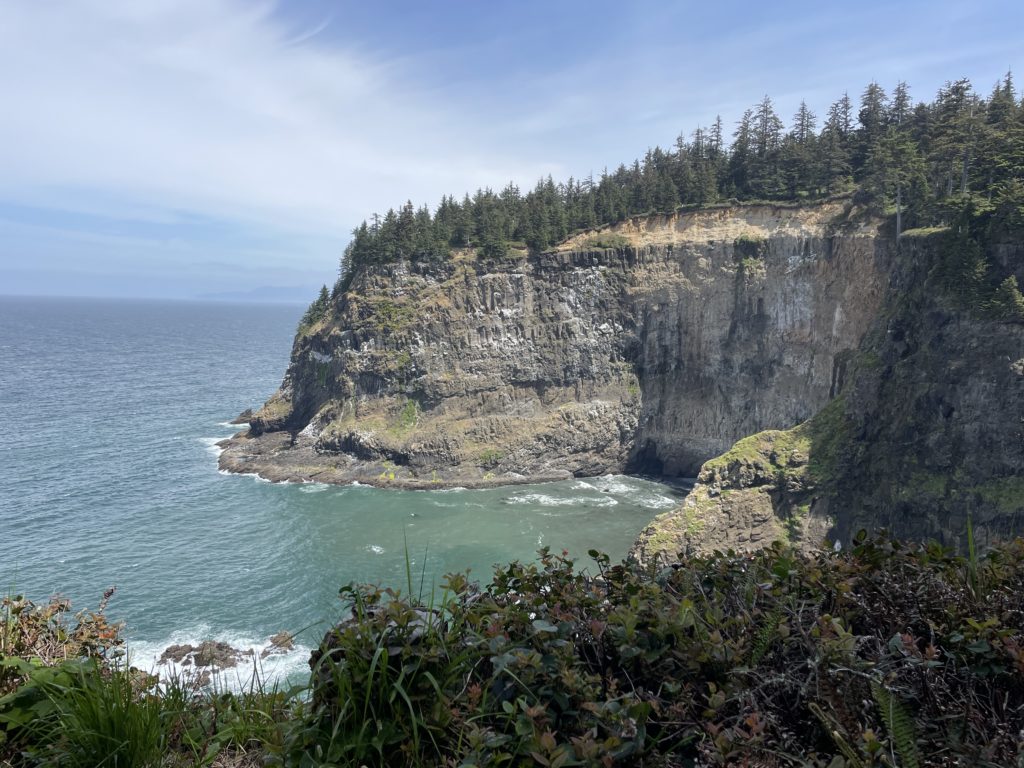 Of all the states I have traveled to around the U.S., Oregon is one of my favorites. Recently our family traveled to Tillamook, Oregon for my daughter's wedding. The event occurred Memorial weekend on her fiancés family land just thirty minutes inland of Tillamook. Before and after the wedding we stayed at an Airbnb across the street in Oceanside. From the deck of our house, we could gaze at the large haystack rocks and cliffs which made for some fantastic sunset views.
Each morning we headed out for a trail run along the beach or at the nearby Cape Lookout State Park. Tillamook receives an average of 100 inches of rain per year compared to the US average of 38 inches. It was incredible to run alongside the gigantic Redwood trees which provide a canopy for the entire rainforest. Following the trail runs, we enjoyed a therapeutic ice bath in the Pacific Ocean.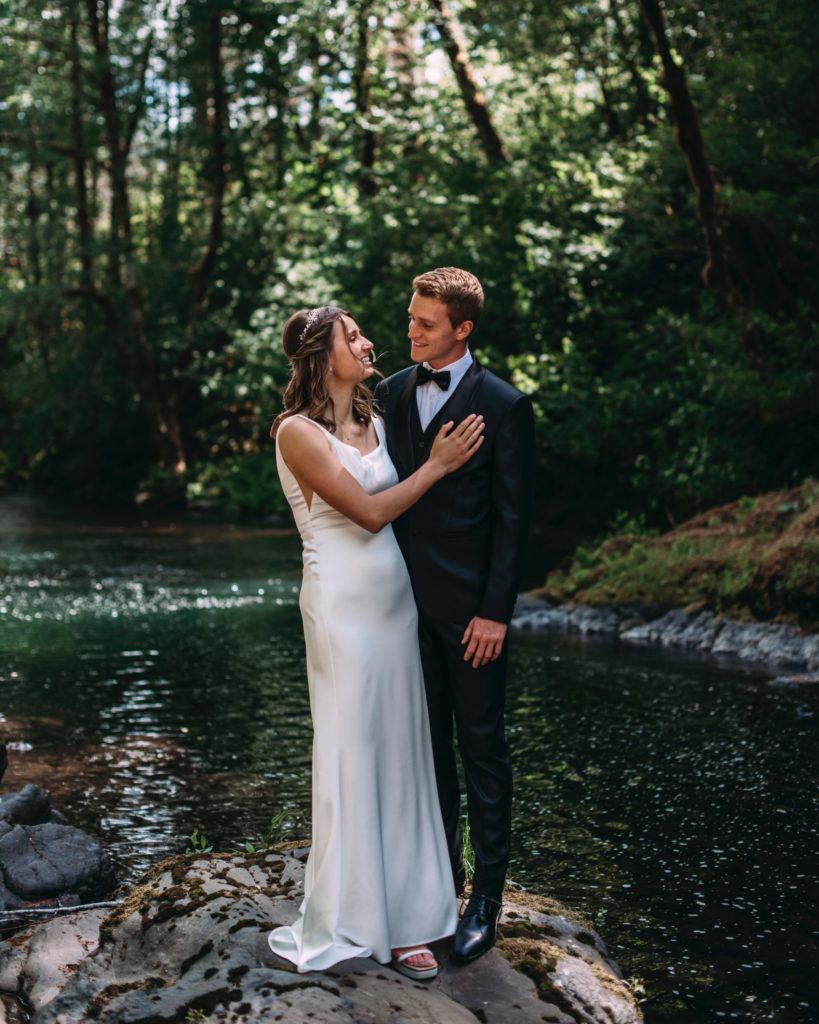 The wedding ceremony took place outside with the backdrop of the Wilson River. We were blessed with sunshine and cool temperatures which made for a perfect wedding day!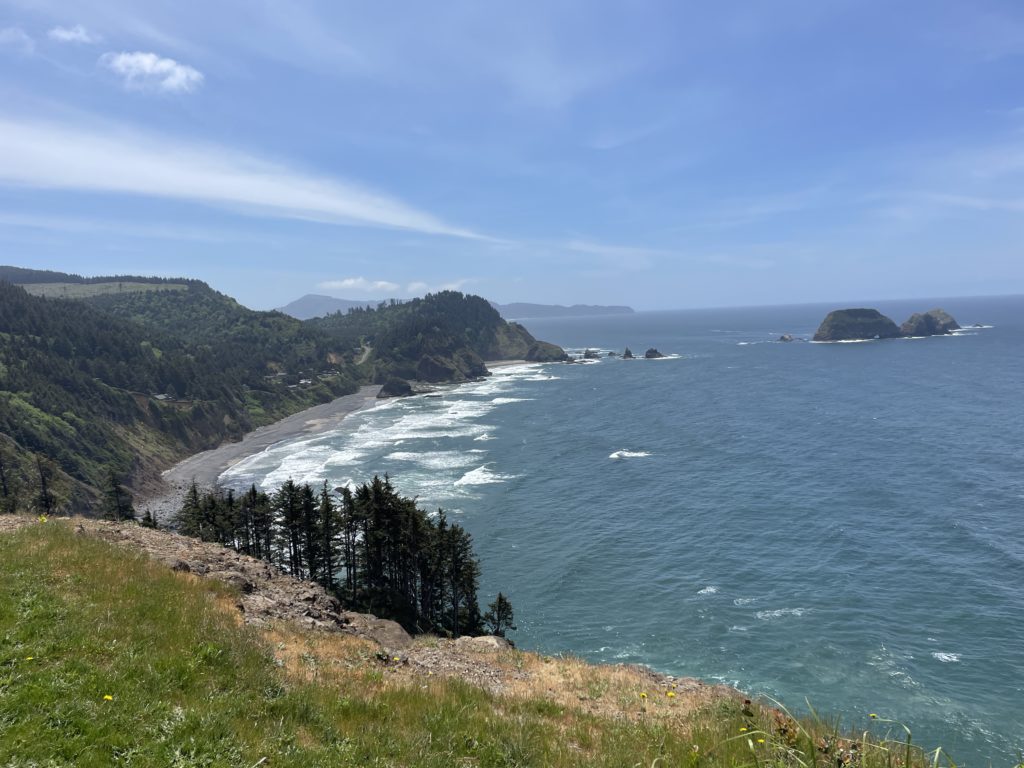 Following the big event, our family visited Cape Mears where we spotted a few gray whales. From late March to June, the whales migrate north back to Alaska. On each trip, approximately 18,000 gray whales will pass through Oregon coastal waters. Cape Mears also has lovely hiking trails that lead to a 300-year-old tree nicknamed "Octopus" which is 46 feet in circumference and has no central trunk. After some surfing lessons and one more dip in the ocean, the family packed up and departed to Portland to pick up our rental camper van.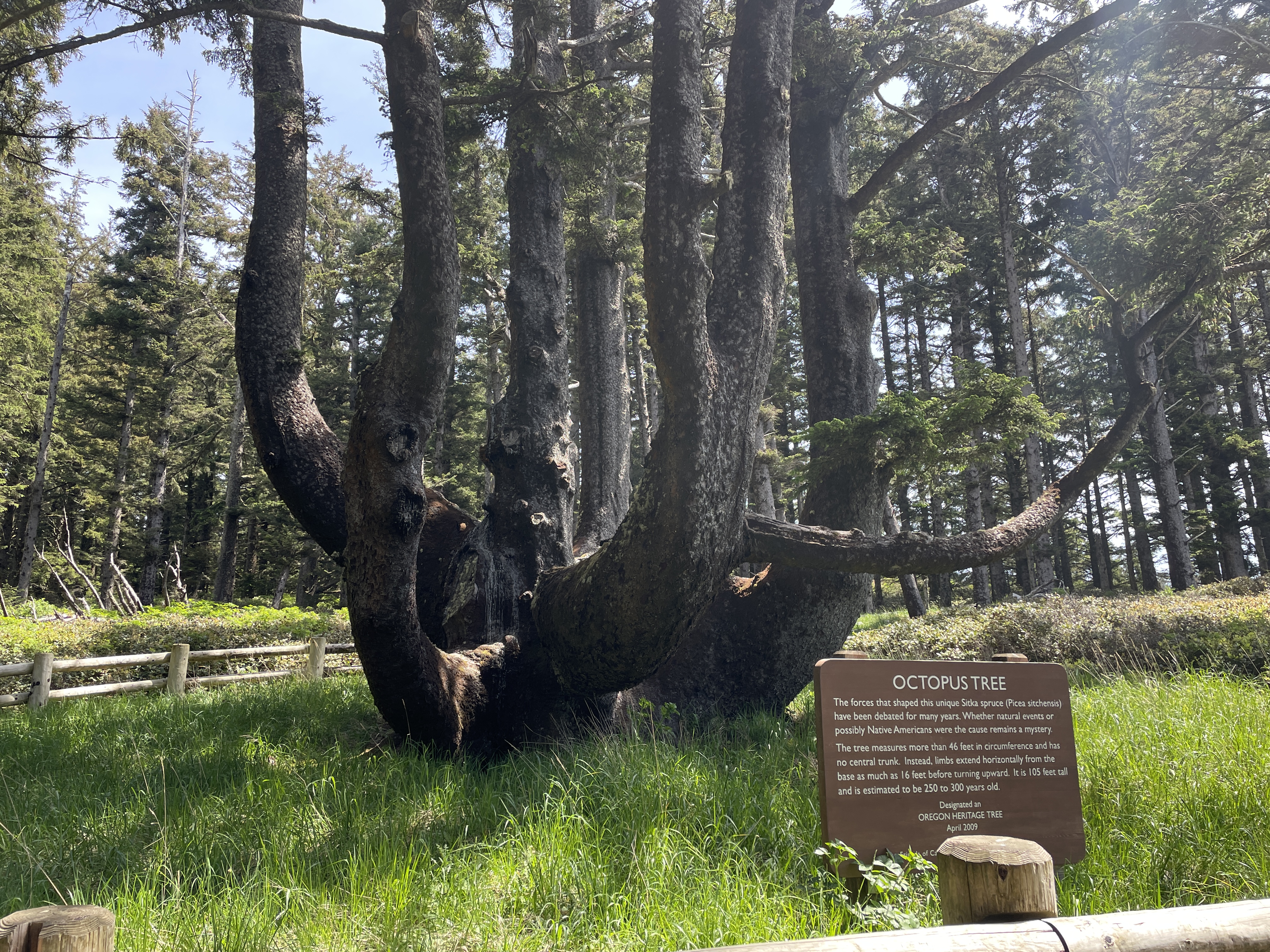 Our daughter Hannah and another family joined our road trip adventure which started with a trail run to a mountain lake with stunning views of Mt. Hood. Snow covered parts of the path since it was only the first week of June.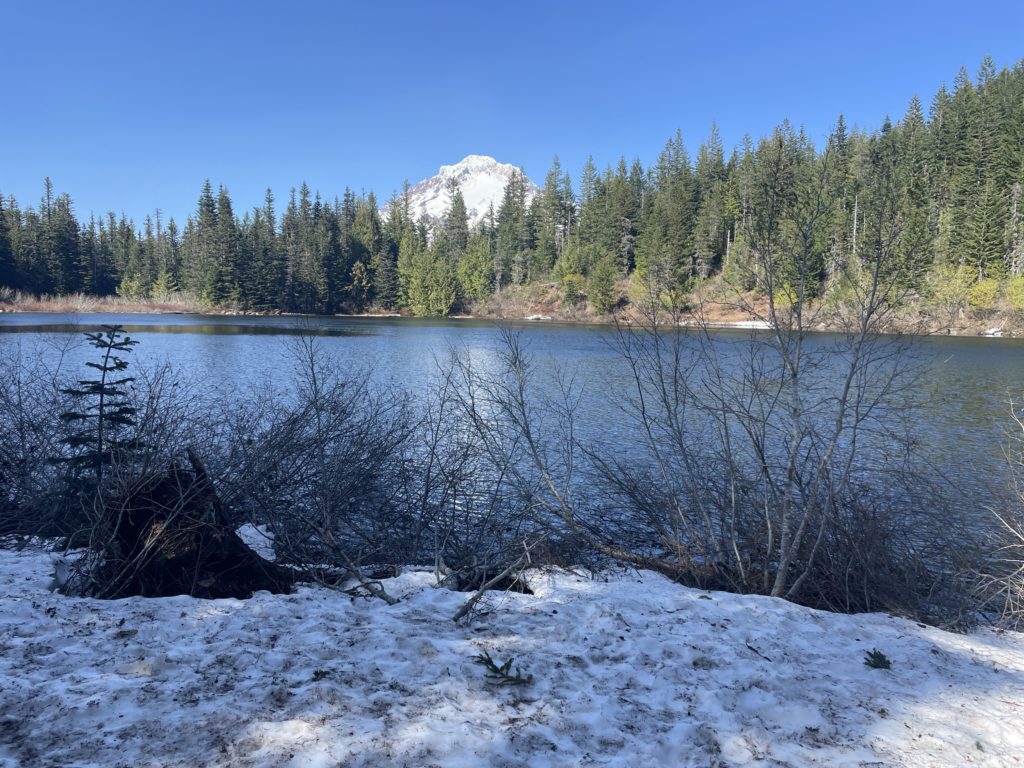 The following morning we climbed up Mt. Hood starting at the base of the National Historic Timberline Lodge. The lodge was built by the CCC in 1937 and stands on the south slope of MT. Hood at 6,000 ft of elevation. In the 1950's it was purchased by a family and turned into a ski resort that still hosts guests and more than two million visitors per year. Fun fact: In 1980, the film Shining had aerial scenes at the Timberline Lodge.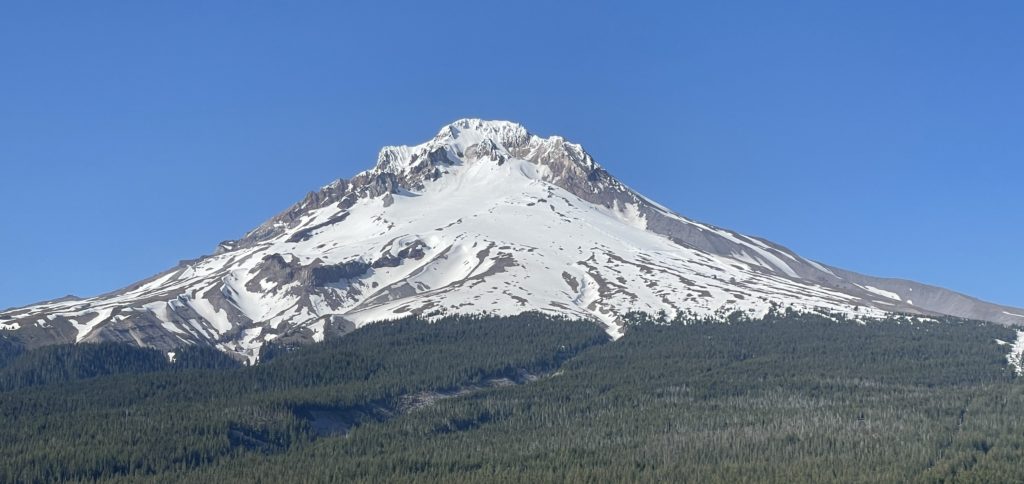 We managed to climb to about 8,000 feet of elevation traveling on snow, rock, and dirt with amazing views of Mt. Hood and other distant mountain ranges behind us. We met several hikers that had already summited the 11,249 Mt. Hood. The trek takes around 8 – 10 hours and hikers needed to start by 1 am so that the snow would be firm for climbing.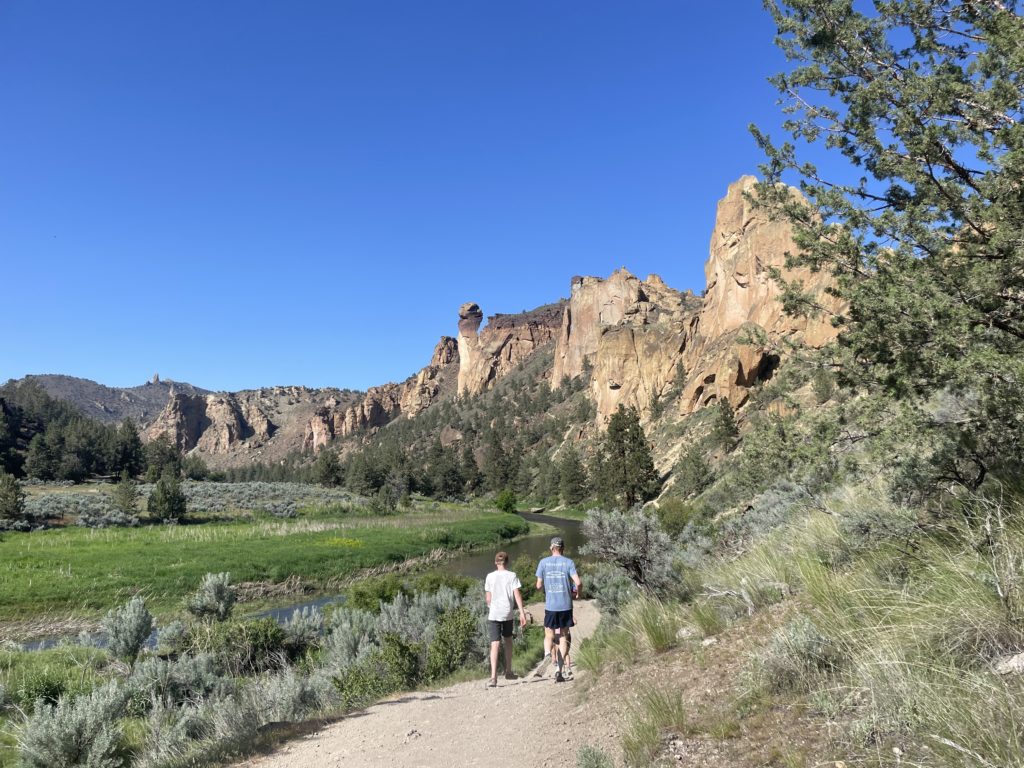 Following our Mt. Hood adventure, we headed south to explore Smith Rock State Park where we enjoyed scenic views of deep river canyons along miles of hiking and mountain bike trails. Spectating some of the climbers along our trail run was exhilarating! There are several thousand climbs in the park with more than a thousand bolted routes.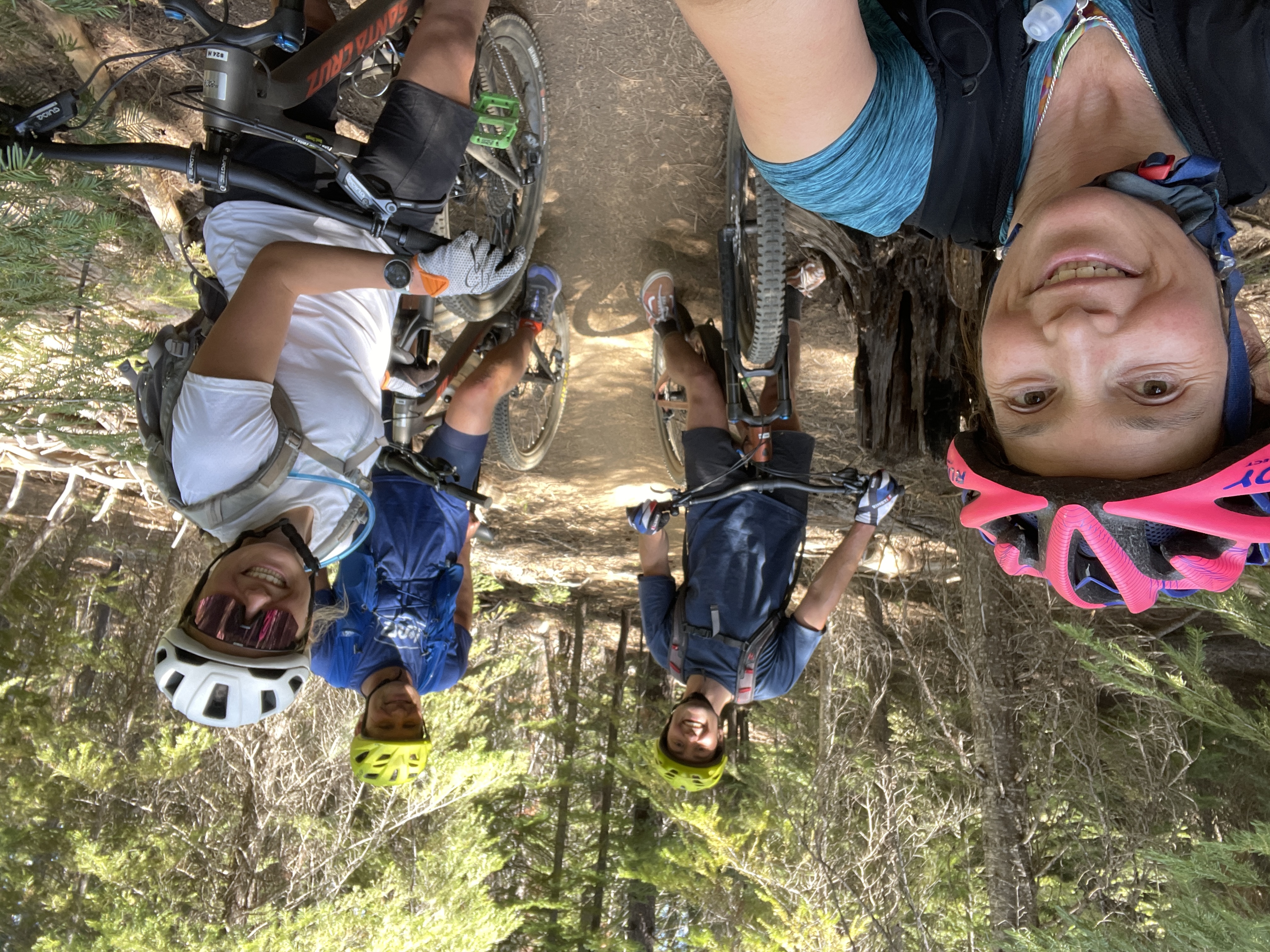 The next adventure awaited us just forty minutes southwest in Bend, Oregon. It had been thirty years since I last visited Bend during my college cross-country ski nationals in 1991. Since then, the town has exploded in the number of residents from 25,000 to 107,000 in 2023.
The Mountain bike action magazine named Bend, Oregon the best mountain bike town in the country. With over 500 miles of single-track trails just minutes away from downtown Bend, I was overly excited to shred some dirt. We only had time for a three-hour ride so we were directed to an epic loop with flowy downhill runs. The climbing up Funner Trail is gentle but took us over an hour to reach the summit where we hooked up to a trail called Tiddlywinks. I was in heaven! Smooth flowy single-track trails with perfect berms made for a roller coaster ride back to the Storm King Trailhead.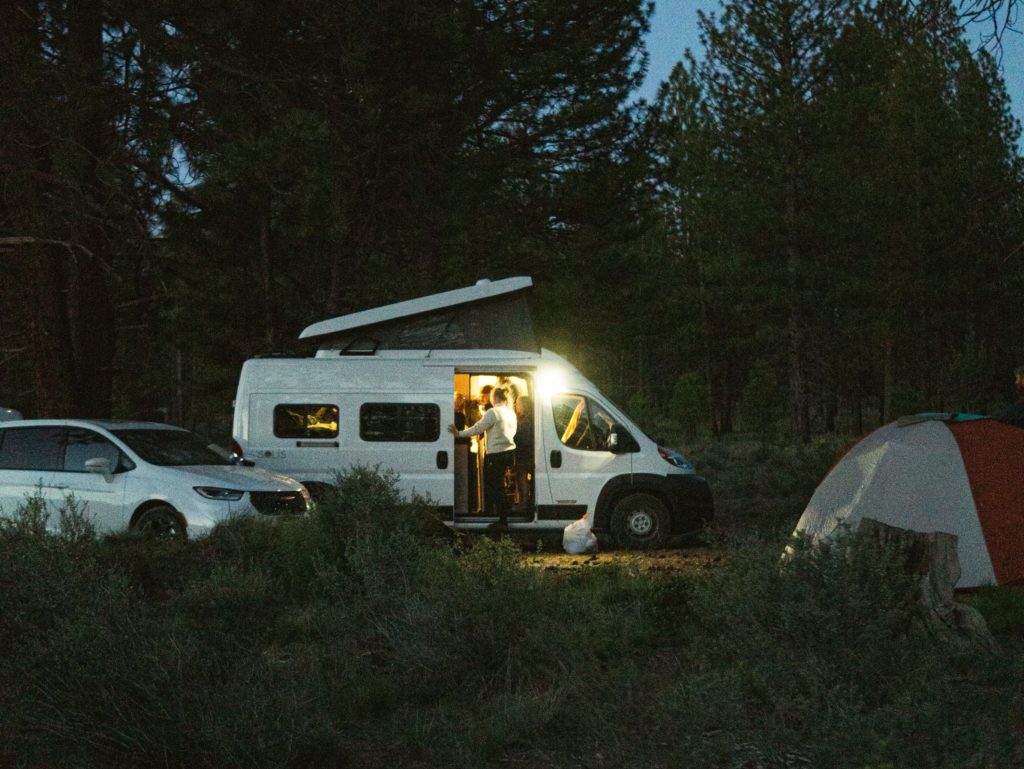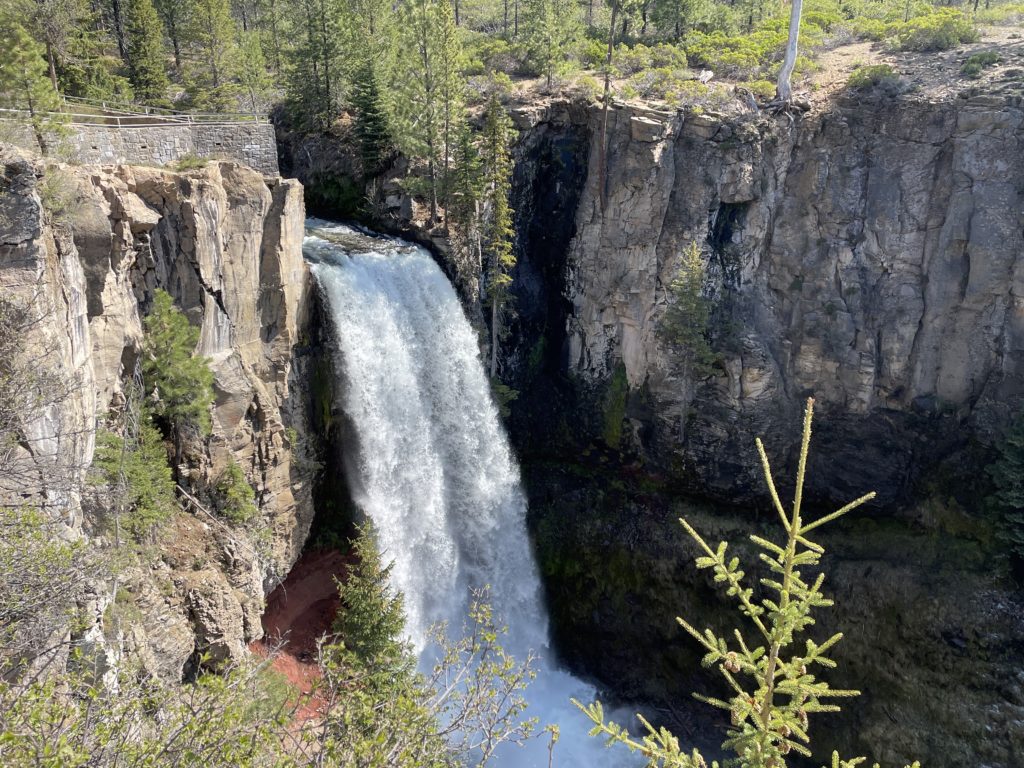 A local friend living the van life showed us some legal boondocking spots that are just a hop away from downtown Bend. We camped near the base of Phil's Mountain Bike Park Trailhead which was a fantastic spot for the next day's hike up at Tumalo Falls. My friend Josie and I attempted to trail run up to five different waterfalls. Due to the amount of snow, our trail run turned into a trail hike and orienteering adventure. The river and falls were stunning, but it was a bit tricky to navigate in such deep snow.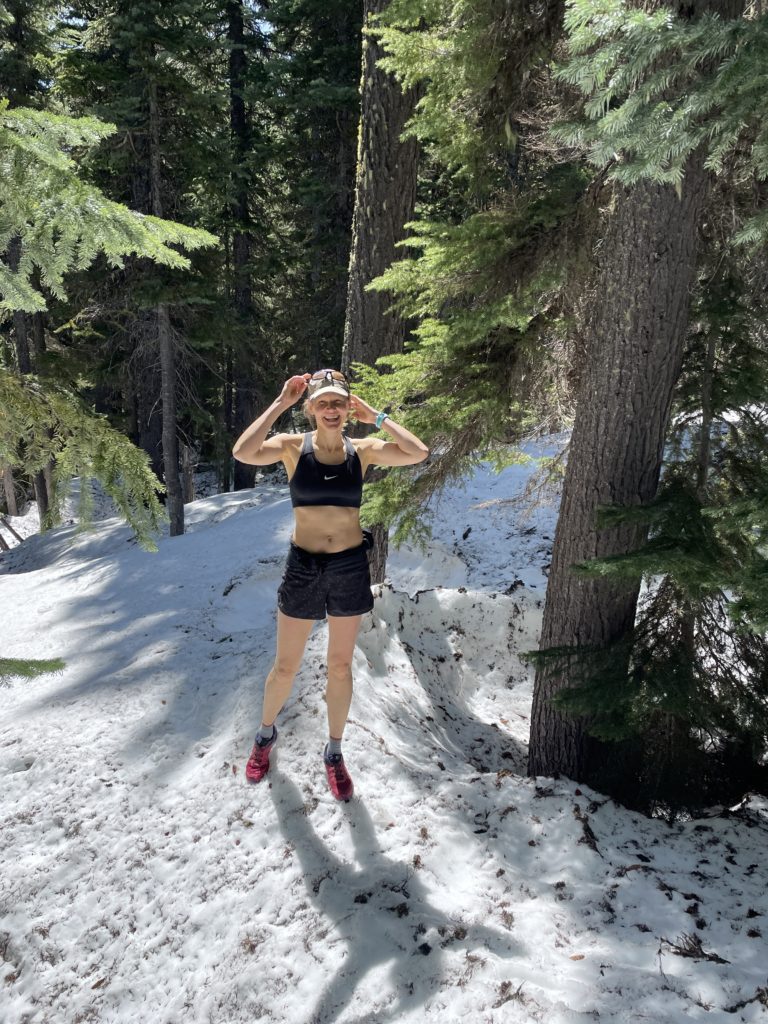 Before leaving Bend we had to hit up Sparrow Bakery to sample one of their delicious ocean rolls. We were close to going crust skiing on Mt. Bachelor but unfortunately ran out of time. The Nordic Center closed before Memorial weekend so we were out of luck with ski rental equipment. Hoping to make it back when Endurance Adventures plans a future ski training, hiking, and mountain bike trip in Bend!
On our way back to the coast we stopped at the McKenzie Falls and hiked along the river. The trail is 25 miles long and hosts one of Oregon's oldest ultramarathons since 1988 called The McKenzie River Trail Run. Currently, my husband and I are training for the Marquette Trail 50 km race event held on August 19. If all goes well, perhaps we will be up for another one in Oregon!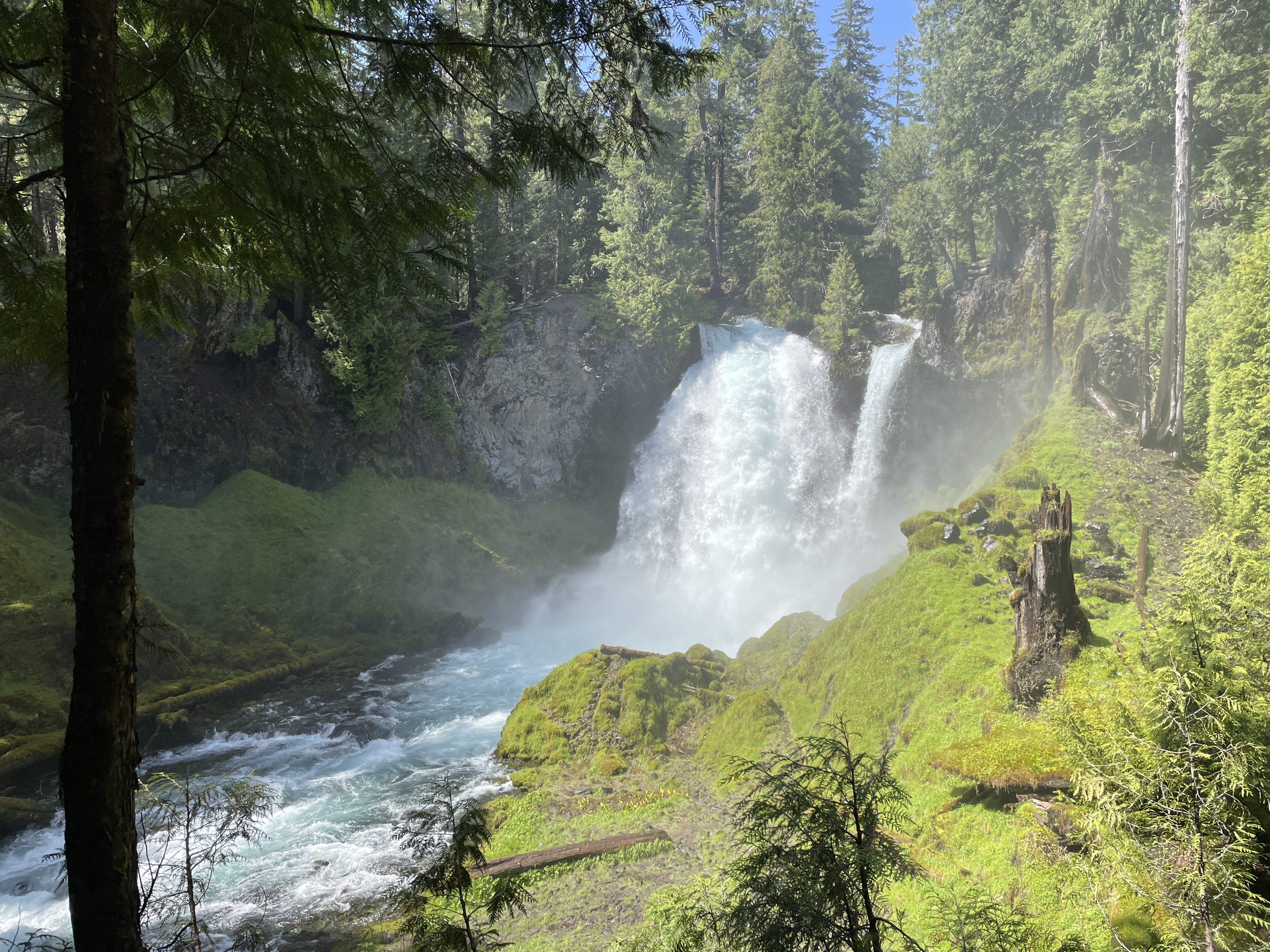 We finally arrived at the coast and camped at Washburn State Park where we explored the sand dunes and surfed the waves. The following day we headed north up the coast to Devils Lake State Park. Early the next morning we hit the beach to view some amazing tide pools filled with starfish, anemones, and other sea creatures.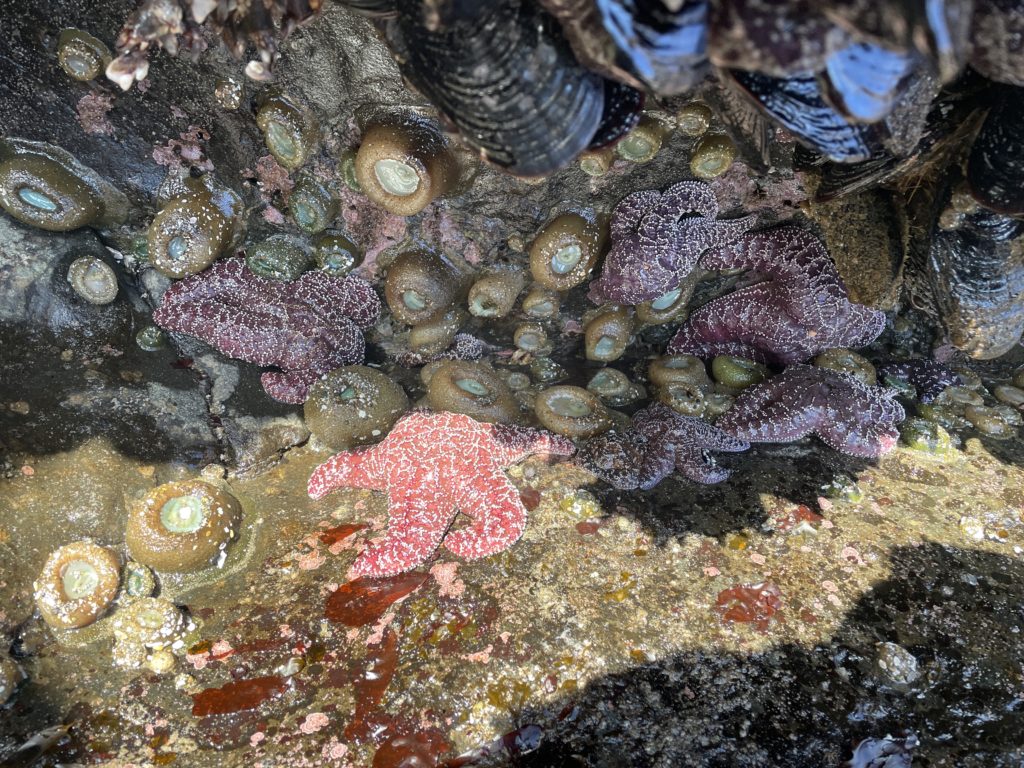 Our final adventure was a trail run up a very steep cliff just above Cascade Head. Once we were above the tree line, the trail was lined with lupine flowers making a magical ribbon of purple all the way to the top of the cliff. Many times I do not want to return home after vacations, but to be honest, I was road-tripped out and my body needed some downtime after a week of trail running, hiking, and mountain biking.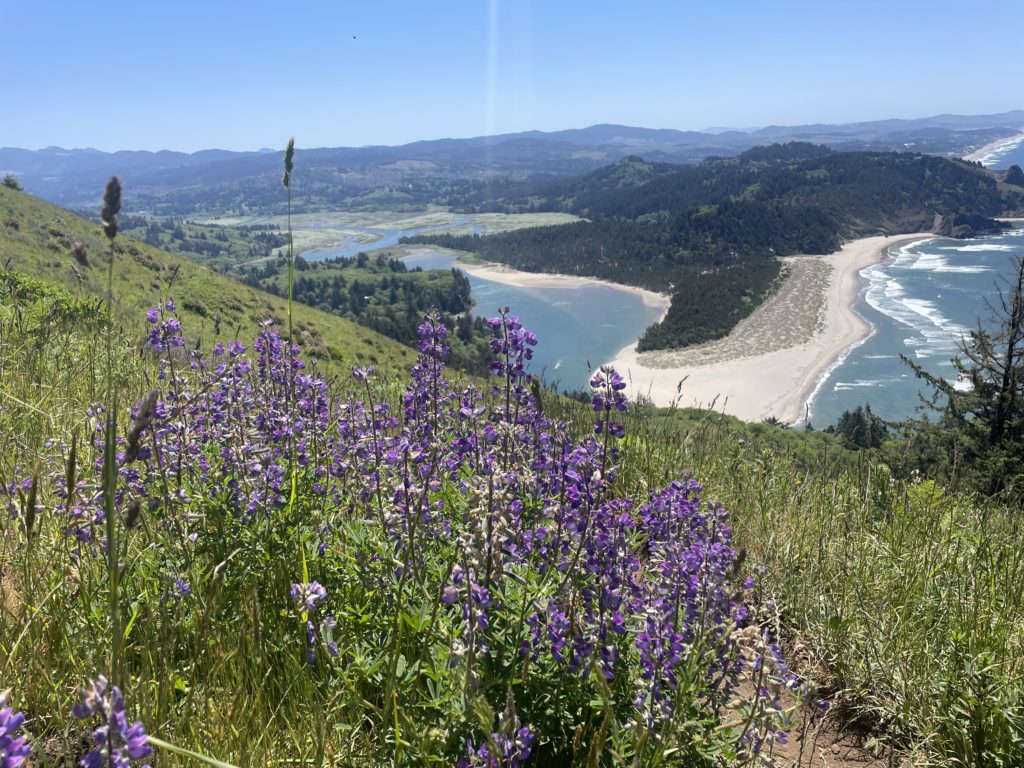 God knew what he was doing when he created Oregon. It is a masterpiece quilt that is perfectly stitched together providing endless adventures and amazing beauty. I look forward to returning to Oregon when Craig and I have more time to explore all of the amazing trails, waterfalls, tidepools, beaches, mountains, deserts, and rainforests. Stay tuned for a future Endurance Adventure's Trip to Oregon!
Kim Rudd, Owner of Endurance Adventures