Eight women's journey through France, Italy and Switzerland!
Around a year ago I received an invite from my friend Mindy Benton to join her on the Tour Du Mont Blanc hut-to-hut backpacking trip. Mindy desired to celebrate her sixtieth birthday by hiking the world's most iconic trek traversing three countries. Eight women booked the self-guided trip a year prior through a tour company called Distant Journeys. They were very helpful in booking all of our huts and hotels along the hike.
Prior to the trip, eight women spanning the ages of fifty-two to sixty-eight trained together at the Hyland Hills Downhill Ski Area. The nine-day trip started at the end of August in Chamonix, France where the famous Tour Du Mont Blanc Trail race starts and finishes. Created in 2003, the UTMB is one of the most prestigious trail running race events in the world with 106 miles and over 32,000 feet of positive elevation gain. The course traverses around Mont-Blanc through Italy, Switzerland, and France. We were excited to learn that the race would be starting during our journey around Mont Blanc.
This was my first time visiting France and I quickly fell in love with both the mountain scenery and the incredible food! Before starting our backpacking trek, we had a day to play in Chamonix. We enjoyed fresh baked goods, gelato, pizza, and amazing homemade pasta! The famous Aiguille du Midi cable car ride provided incredible views of Mont Blanc along with a day hike to one of the mountain huts. We enjoyed walking shopping along the streets of Chamonix and spectating all the fit race participants flooding the area for the TMB race event.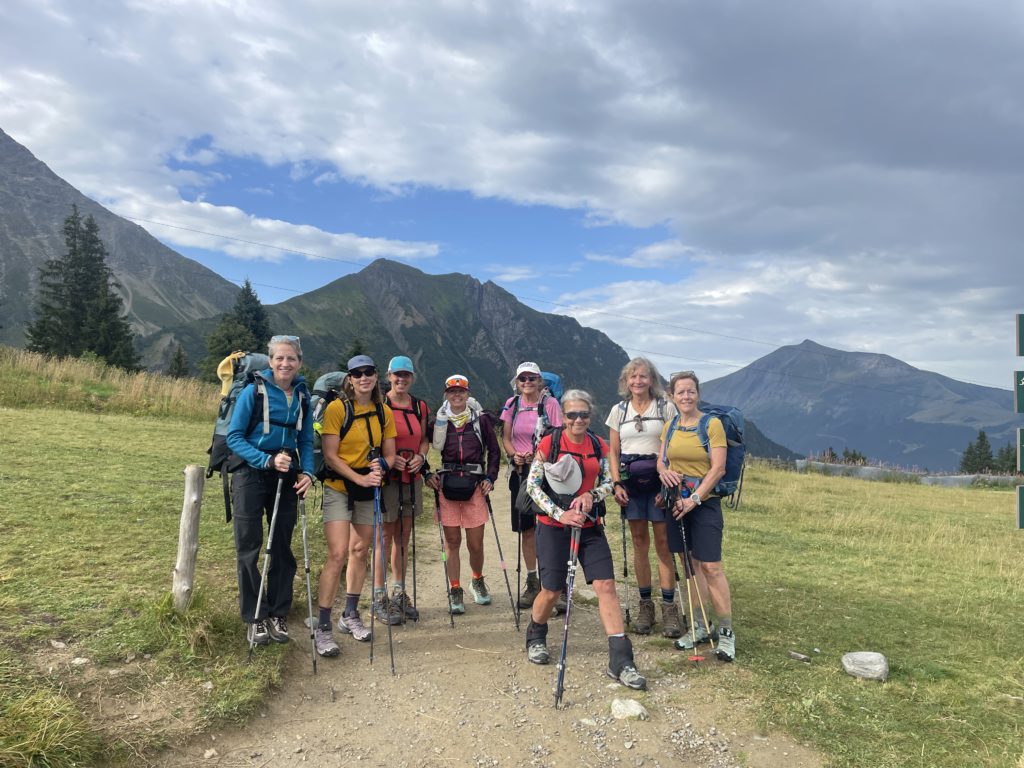 The following day we started our trek from Chamonix by riding a short cable car up to the TMB trail at 5,600 feet. Each day we hiked around ten to twelve miles with a diverse range of elevation gain and loss. Each of us carried an 18 – 20 pound backpack which held all of our clothing, water, and supplies for the long journey.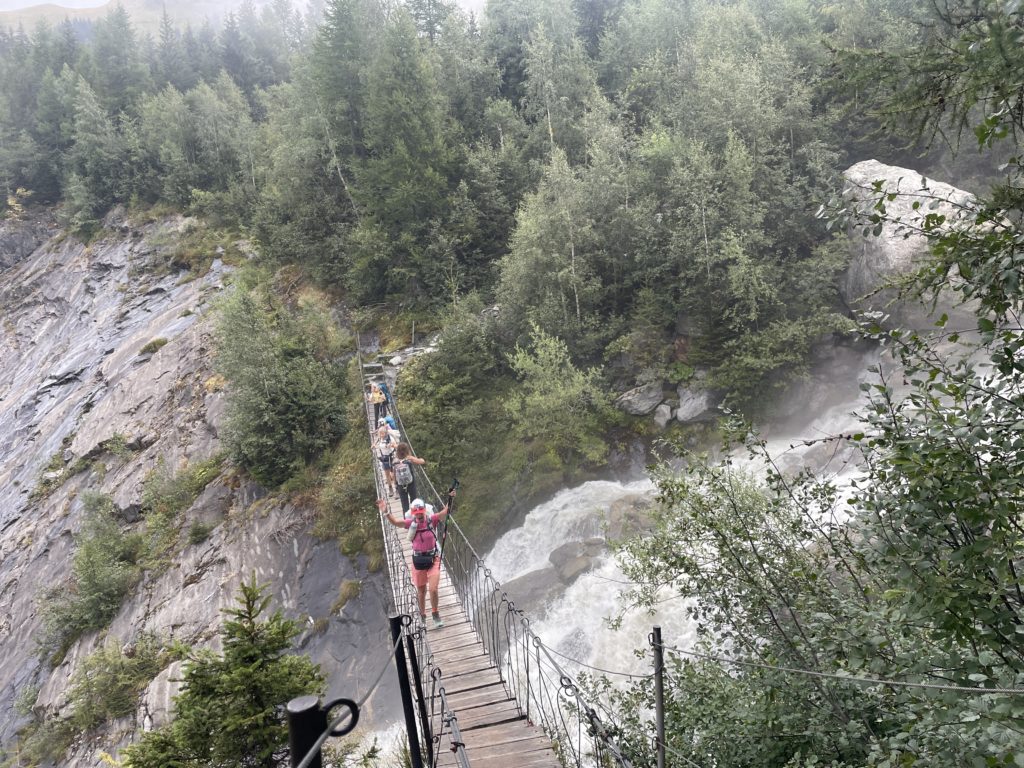 We welcomed the cooler temperatures in the upper 60 degrees Fahrenheit since the prior week had been much warmer in the 90s. We crossed a raging stream on a single-lane suspension bridge and hiked up a steep ascent over a mountain pass. We had a rugged and wet descent down into the valley where our first night's stay would be at the quiet Refuge de Miage.
After warming up with some hot chocolate and lunch we headed out for a day hike to view some waterfalls. Along the hike, we discovered wild blueberries. Throughout the entire trip, we were blessed with wild blueberries which made for some nice rest stops. I picked berries so frequently that I was nicknamed "Berry girl"! Along with berries we encountered many mountain marmots along with a stream of sheep and cows wandering around the various high mountain farms. Beware of the sheep dogs who are very protective of their flock!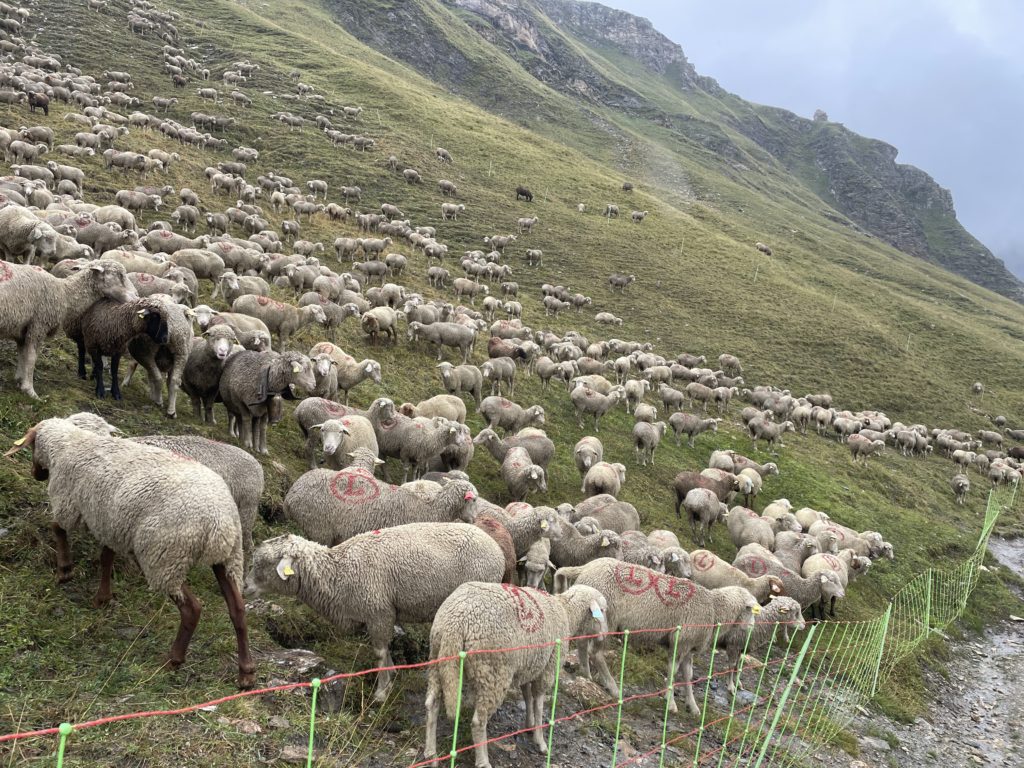 Throughout our journey around Mont Blanc, we stayed at a variety of mountain huts and hotels. The typical refuge hut provided beds, showers, and delicious meals. Some nights all eight of us slept in the same room and at other locations we shared a room with one or two women from our group. It brought back memories of my childhood slumber parties!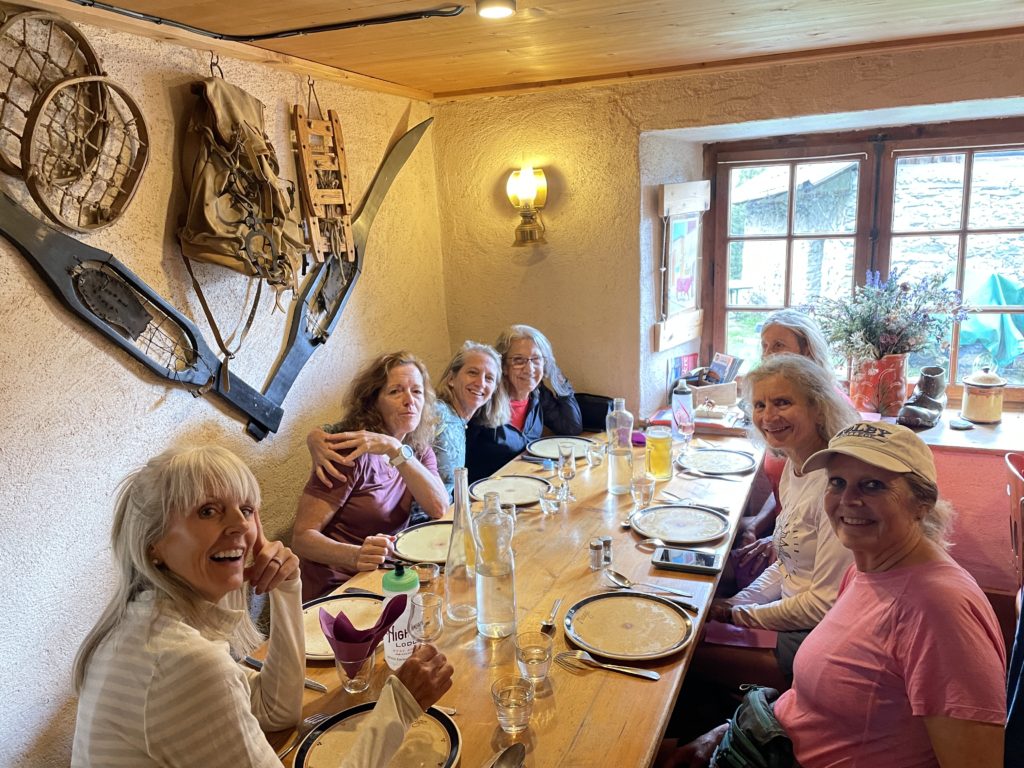 From Miage we traveled through a small village of Les Contamines where we stopped for a quick bakery item before climbing over 2,000 feet of elevation to our next refuge. As we hiked up the Mont Joe Valley, we visited a 15th-century mountain church called Notre Dame de la Gorge. We also crossed a historic 1425 Roman bridge and a beautiful river gorge.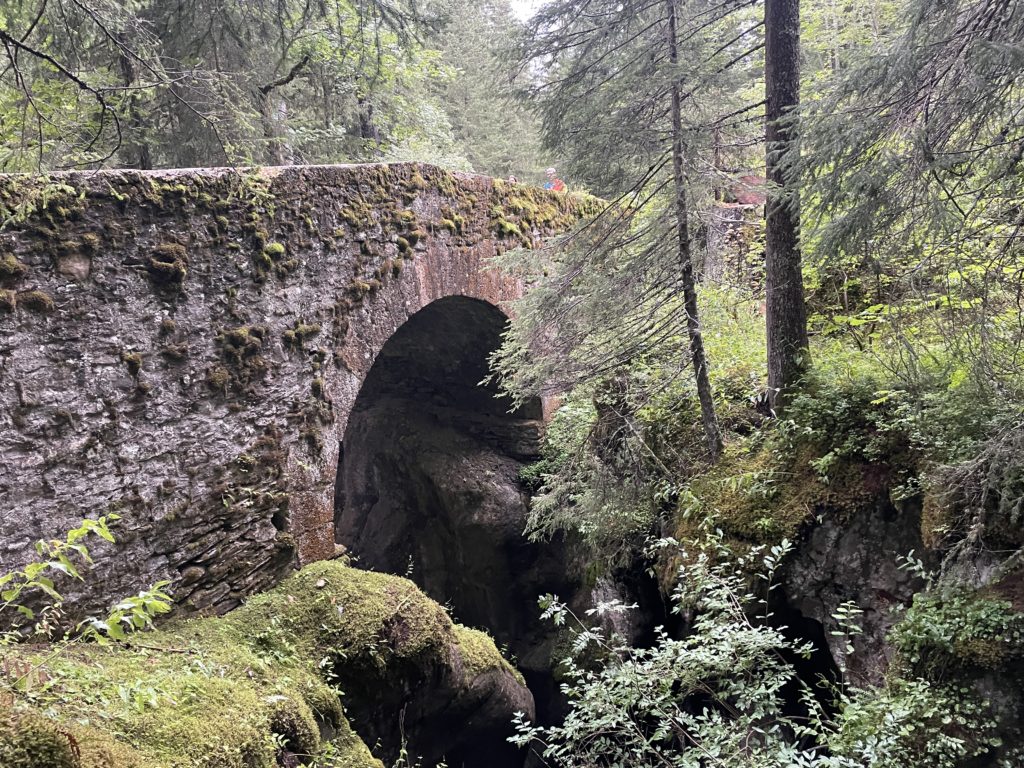 Day three was an epic hike through a snow blizzard with 20-30 mph winds and four to six inches of snow! Due to the weather, we were not able to pass through the highest point of the tour called Tete des Nord Fours (9,045′). We arrived at Refuge Des Mottets where we enjoyed music, singing, and a delicious French dinner. One of the benefits of staying in the huts is all the different people you meet from all over the world. We befriended a young man from London, a woman from Quebec, and a lovely couple from Israel.
The fourth day of hiking brought us to the Italian border at Col de la Seigne ( 8,300′). Unfortunately, the fog ruined the views but as we hiked down the Italian side of the Mont Blanc massif we began to see a myriad of glaciers and rocky peaks. The glaciers were stunning, yet it was sad to see how much each of them have receded in the past twenty years. On our descent we also encountered World War II bunkers hidden in the cleft of the valley.
We ended the day's hike at Courmayeur, which was my favorite town of the entire trip. This charming Italian village is in the Aosta Valley at the base of Mont Blanc Massif. The view from our hotel room was breathtaking as you gazed at all the slate-covered roofs with the majestic Mont Blanc in the background. In 1965 a tunnel was built between Courmayeur and Chamonix, France which made Courmayeur a premier ski destination.
Day five was an extra day to rest, explore, and eat more gelato! During the evening hours, a time-honored passagiata takes place in the streets of Courmayeur. The locals visit with each other as they stroll up and down the main street. I decided to rent an E-bike to explore more of the mountain trails and glacier views. I enjoyed biking along the river and hiked more of the trails surrounding the Glacier de Miage.
Day six we climbed out of Courmayeur with a total elevation gain of 5,200 feet and descended 2,700 feet to Refugio Bonatti. During our hike, we cheered on the 100 km CCC trail running as they passed us on the TMB trail. In the evening we enjoyed the sunset views of the mountain peaks with a front-row seat to a massive glacier.
On day seven we crossed the Swiss border at 8,372 feet along a high alpine trail with stunning views of Mont Blanc Massif. Following dinner, we enjoyed a wonderful chocolate mouse cake to celebrate Mindy's birthday!
Day eight was kicked off by cheering on the 2023 Women's TMB overall female winner Courtney Dauwalter. Courtney is originally from Hopkins, MN and we all cheered her on as the " Minnesota women's cheering squad"! She gave us a smile and wave as she easily traversed down the mountain. Courtney secured a historic treble of the 2023 Western States, Hardrock, and UTMB, becoming the first person to win all three in one calendar year. She dominated the women's field at the UTMB World Series Finals 2023, winning in a time of 23:29:14.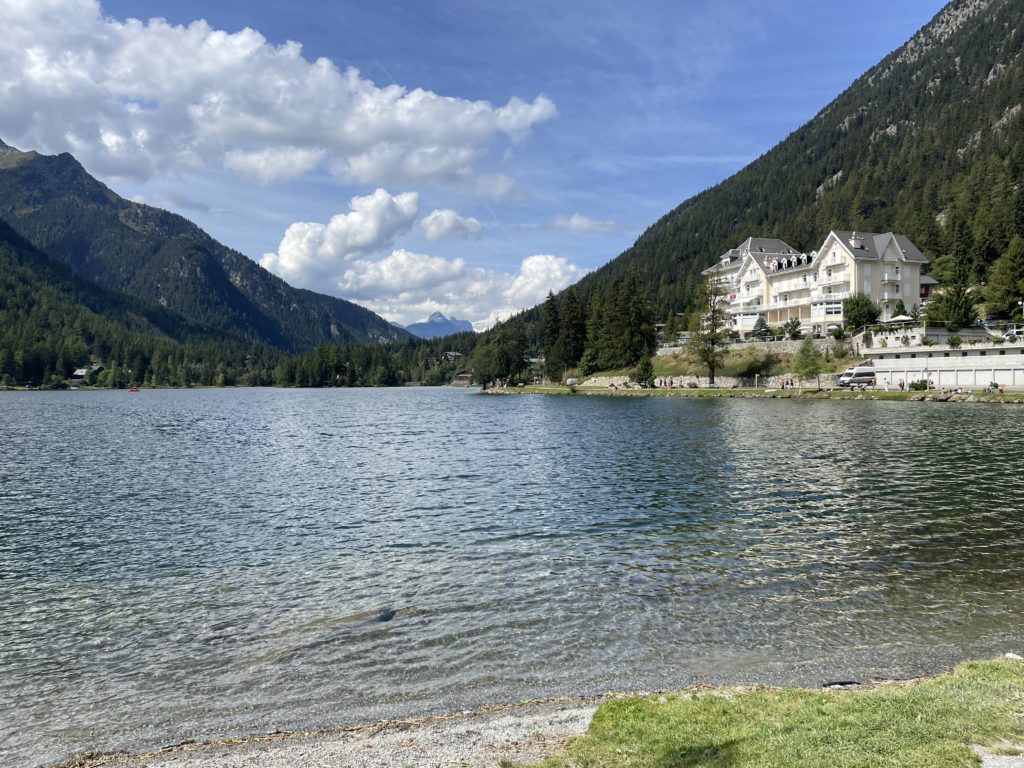 After being inspired by Courtney, we continued our hike from the Ferret Valley into the picturesque lake village of Champex. Following a very cold but refreshing dip in the glacier lake, we visited the town's famous alpine botanical garden. Throughout the afternoon and into the evening hours we cheered on the 106-mile TMB racers as they ran past our hotel.
Most of the towns and small villages along the TMB trail have their own unique church. There is a stunning view of a large pink church that will catch anyone's eye as they walk into the quiet Swiss town of Trient.
We arrived earlier than expected so I took a day hike down to a river gorge where hikers can walk along a suspension bridge and then down under the raging waterfalls. A hot sauna and Swiss fondue was enjoyed by a large group of both TMB hikers and mountain bikers. Year-round, over 10,000 people from all over the world come to backpack, mountain bike, and day hike along the famous TMB trail. If you enjoy solitude, the TMB is not for you.
The last day of our hike provided spectacular views of the Chamonix Valley and Mont Blanc Range. We decided to take a shortcut route back to our hotel since the hike was already 18 miles long.
The following day we hiked up to Mont Blanc Lac, which we were supposed to pass on the last day. This hike was very popular with hundreds of tourists hanging out for lunch at the refuge near Mont Blanc Lac.
We finished the day at a spa hotel providing a much-needed time of relaxing in saunas and steam rooms. We celebrated our accomplishment of completing the Tour Du Mont Blanc with dinner and of course one last gelato! The owner of this particular gelato vender made rose flower sculptures out of the different colored gelato flavors.
I hope to return soon to hike, bike or ski the incredible Tour Du Mont Blanc!
Kim Rudd, Owner of Endurance Adventures