Olympian Suzanne King's journey from Vermont to the Methow Valley
By Kim Rudd
Recently I had the pleasure of interviewing Olympian Suzanne King on her journey to the Olympics along with insights on what drew her to live in the Methow Valley area of Washington. Suzanne had a fresh perspective on the Methow Valley ski community and trail system since she recently moved there from Bend, Oregon. What prompted the interview was the upcoming Endurance Adventure's guided trip I am co-leading with Olympian Brian Gregg to the Methow Valley January 24 – 30.
I had not spoken with Suzanne since the late 1990's when our paths crossed at one of the Minneapolis ski club Saturday training sessions. Suzanne and her husband Mark made their home in the Twin Cities in 1990 after returning from Japan. During her eight years in the Midwest she trained with Team Birkie under Steve Gaskill as her coach.
"Coach Steve had a tremendous influence on my journey to the Olympics. He was very positive and encouraging which built up my racing confidence. He was an excellent guide during a time when there were not many training clubs available for development skiers. Domestically the US stance in Nordic skiing seems to have grown tremendously on two fronts in the last two decades. The sheer numbers of those competing at US Nationals compared to twenty years ago is outstanding. I have also seen the sport grow in its professionalism through coach training and the athletic development programs."
Our phone conversation started with Suzanne informing me of the recent foot of snow that fell in the Methow Valley just the night before. The Methow area had already received two feet of snow in early November making early season ski conditions ideal. This past November and December has been the earliest cross-country ski opening for the Methow trails in its 46-year history. Suzanne stated, "Of all the years to come cross-country skiing in the Methow Valley – this is the year!"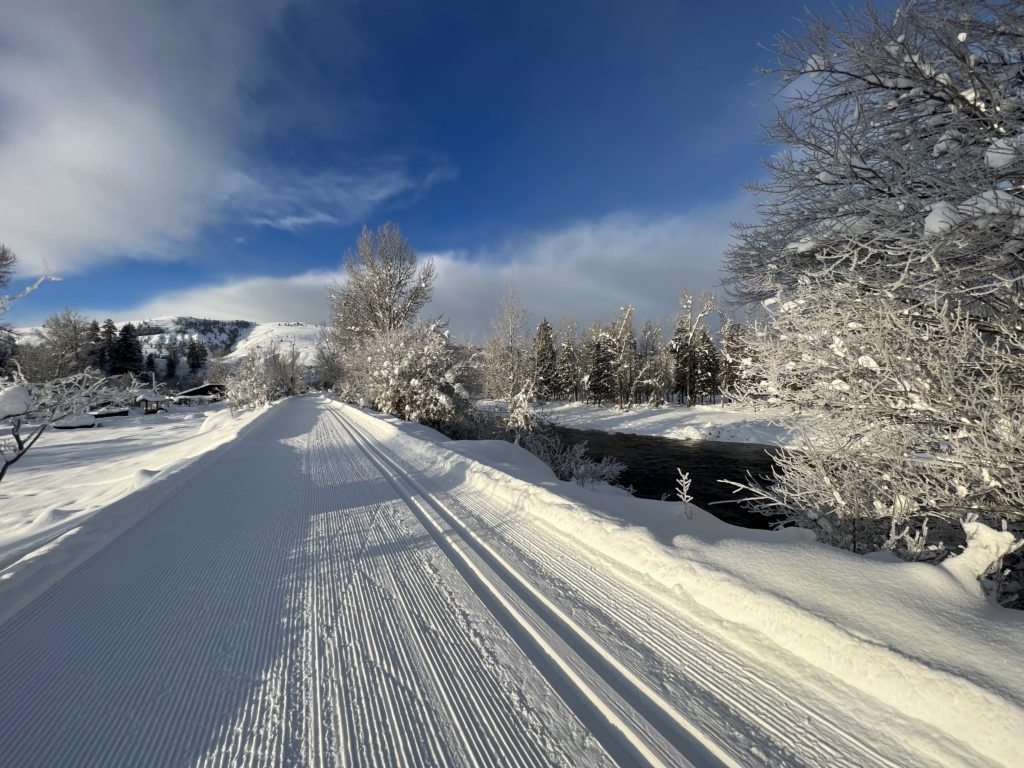 The Methow Valley is located in northcentral Washington, at the foothills of the North Cascade mountain range. The valley is approximately 2 miles wide and about 70 miles long, and is home to a population of about 5,000 people that enjoy magnificent landscapes in the pristine mountain, forest and river environments. Suzanne and Mark moved from Bend, Oregon to the Methow Valley in 2020. The desire to reside closer to her brother Alex and sister-in-law Leslie, and to have access to this remote wilderness drew her and Mark to the Methow.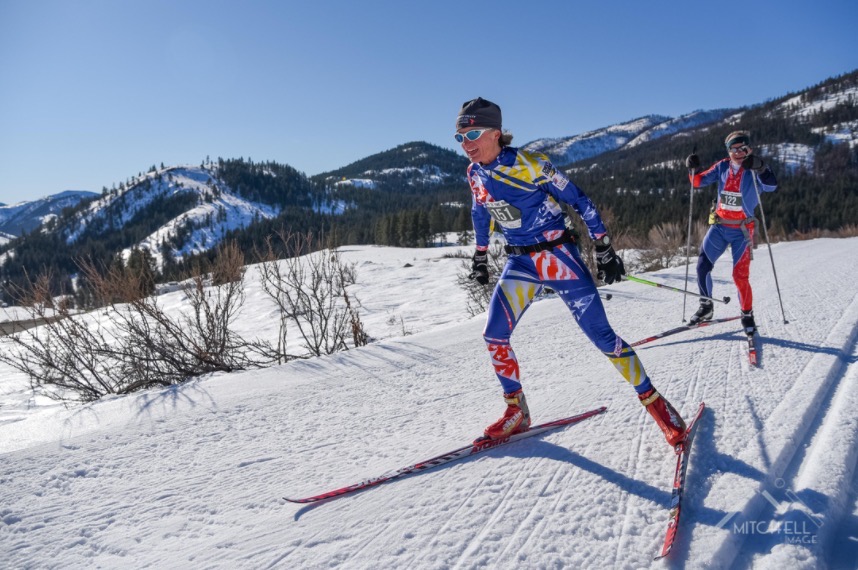 "During our time residing in Bend, Oregon the population grew from 30,000 to 100,000 residents. This growth in population was getting too large for our comfort zone so we decided it was the right time to move away. Since moving here, we have enjoyed the quiet ski trails, as well as the community where everyone is allowed to contribute their talents to the overall success of the Methow Valley ski programs.
We continued our conversation that led to questions about her path to becoming a two time Olympian. Suzanne grew up in Warren, Vermont where she learned how to ski at a young age. "Nordic skiing is part of the Vermont culture, where everyone learns how to ski recreationally. During elementary school, the entire school would head out for ski adventures."
Suzanne had a gap of eight years where she was not skiing throughout high school and her time at Dartmouth College. Following college she moved to Marquette, Michigan with her husband Mark who was on the Alpine ski team at Northern Michigan University. During this two year period Suzanne became passionate about ski training and racing.
Following this, she and Mark lived in Japan. After returning from Japan they made their home in the Twin Cities where she started training with Team Birkie. Suzanne was on the US ski team from 1994 – 1998 and competed in both the Lillehammer and Nagano Olympics. She also competed in several World Cup and World Championship races during the late 1990's.
Currently, Suzanne enjoys coaching youth through the Methow Valley Nordic Ski Education Foundation. "I am enjoying the full circle of the lifetime sport of skiing. There is a place for children, youth, adults and elderly. I am grateful to be in the cycle of skiing which bonds us as a community."
There are around 130 youth and teens who attend the Methow Valley ski team which draws from three small towns with a total population of around 5,000. Suzanne coaches the Nordic ski group called the "Polar Bears", around sixty youth ranging in ages from nine to eleven years old. She loves passing on her passion for skiing and being a link in the community that takes care of each other. Suzanne lives near two Methow Valley Olympians, Laura McCabe and Leslie Thompson Hall (who was the director of the Methow ski program for the past eleven years). Both Olympians have children that grew up in the Methow Valley ski programs and are now racing competitively in college and on the US Ski Team. (Novie McCabe and Walker Hall).
Suzanne enjoys skiing right from her backyard onto the Rendezvous trail system with her husband and brother Alex who lives just a quarter mile down the road. "This is one of my favorite trails. It provides long sustainable climbs of 1,000 feet of elevation gain filled with majestic views and quiet solitude." With over 200 kilometers of groomed trails, you can find options for every ability and desire: gentle valley-bottom trails with kid-friendly loops, long-distance town-to-town and lodge-to-lodge ski options, or heart-pumping climbs that will challenge the most seasoned mountain athlete.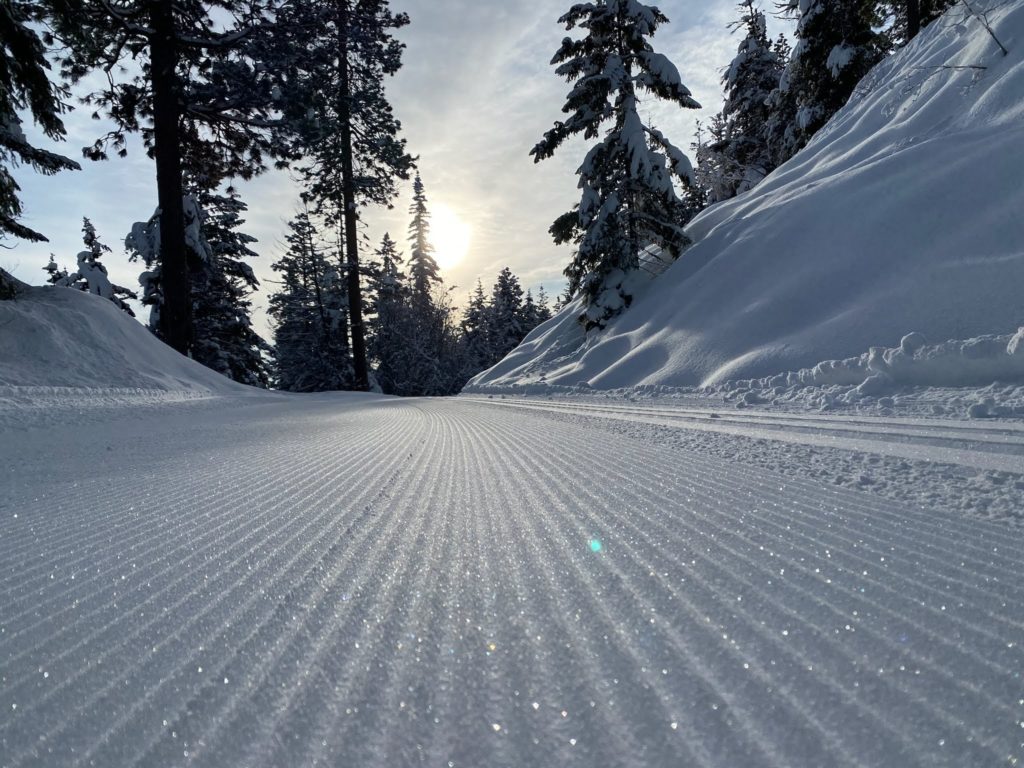 If you are looking to join other like-minded Nordic skiers for some amazing cross country skiing this winter, Endurance Adventures still has some spots open on their 2023 Methow Valley ski trip January 24th – 30th. Olympian Brian Gregg is our trip leader and is excited to guide trip participants at his home town trails in the Methow Valley. Come explore 200 km of groomed ski trails at the nation's largest cross-country ski destination. Ski-in-ski-out from Sun Mountain Lodge where skiers will enjoy fine dining and incredible mountain views. For more information visit: Methow Trip 2023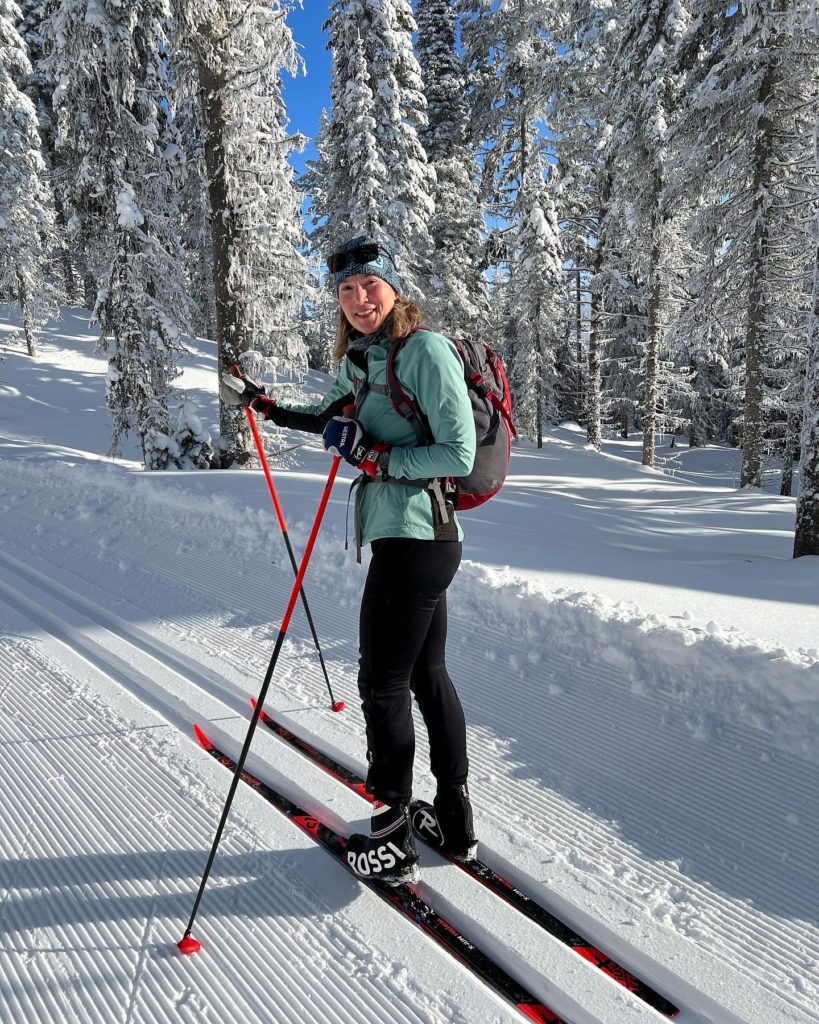 Kim Rudd Owner of Endurance Adventures